By Lauren O'Connell and Lindsay Renick Mayer
Step through the fire engine red doors, and the color inside pops. Bright red chairs sit beneath mustard yellow tables that complement blue and yellow walls. Though bold, the wall color is almost indiscernible behind the eclectic collage of items that hang there, all radiating neighborhood pride - framed awards given for efforts to strengthen community, pictures of nearby houses, children's artwork, a bulletin board full of local business cards.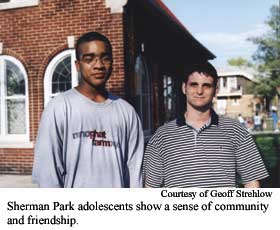 But the palette of diversity at the Sherman Perk, a community coffee shop, extends far beyond the décor. Behind the counter, two young women, one black and one white, talk and laugh with each other. Three school-age boys run excitedly around the café, yarmulkes atop their heads. Straight ahead, a young black couple plays chess on an oversized board, while an elderly white man sips coffee and eats an egg salad sandwich with his middle-aged son.

Nobody seems alarmed by the varying skin tone, age and religious attire because this scene is the norm at the Sherman Perk and almost everywhere else in the community of Sherman Park. And yet, Sherman Park is nestled in urban Milwaukee, an area that, according to the 2000 Census, is the second-most-segregated metropolitan city in the country. And like the bold ambiance of the Sherman Perk, the racial integration of the community makes visitors feel like they've stepped into a different world.

Exit the Sherman Perk and talk to the citizens who live within the boundaries of W. Capitol Drive, W. North Ave., N. 30th and N. 60th streets. Only then does it start to become clear how a community of 38,000 has managed to make impressive steps toward integration for 30 years in a city with a reputation for intractable segregation.

In contrast to much of Milwaukee, Sherman Park boasts a reputation of diversity that is also reflected in the very census data that displays apparent segregation in nearby areas. While the 2000 Census shows Sherman Park with about 75 percent black population and nearly 20 percent white, the Census tracts to the east of Sherman Park toward Johnson's Park are 96 percent black and about 2 percent white.

According to Steve O'Connell, executive director of the Sherman Park Community Association (SPCA) and a resident of 17 years, about 118 Orthodox Jewish families call the area home. O'Connell also estimates a homosexual community of about 2 percent and says that interracial families are common. He explains that his own block is truly integrated - about 50 percent white and 50 percent black.

Sherman Park residents admit that they don't understand the extreme segregation in the rest of Milwaukee, but they attribute their own progress to many different factors including the area's history, economic differences, housing stock and strong community involvement.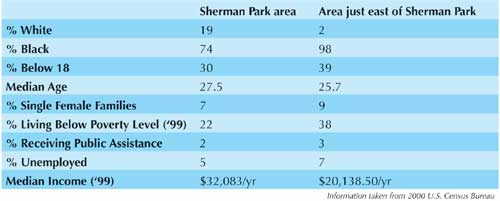 History

Sherman Park has had a history of diversity and community activism since 1970, when a group of seven white couples of varying ages, economic and religious backgrounds united to form SPCA.

Lila Kelly, an SPCA founder, had already seen how quickly a community could segregate. According to Kelly, the association attempted to avoid problems noticed in other communities such as Atkinson-Teutonia, where white residents were fleeing when blacks moved in. "We wanted to promote a racially integrated, economically diverse community in the heart of the city," Kelly says. At its start, however, Sherman Park only had one black family in the entire community.

Since then, diversity has increased significantly and the Kellys still live in the community after 35 years.

The Kellys and the six other founding couples decided that Sherman Park would pride itself on being an accepting and community-oriented place to live. They originally addressed the topics of housing, schools and the expansion of a major expressway.

Throughout their history, Sherman Park residents have fought for integration in schools and against redlining and other practices that undermine fair housing. They have made a point to work toward diversity.

According to SPCA volunteer and 12-year resident of Sherman Park Geoff Grohowski, tradition plays a big role in the area's current demographics. "By tradition we've created an atmosphere where people feel free to bring their lives with them without feeling like they're going to stick out like a sore thumb," Grohowski says.

Many residents cite this longstanding tradition of multiculturalism as one of the main attractions of living in the area. Kurtez Ellis, a high school student who has lived in Sherman Park for five years, remarks on one of the advantages of diversity. "You get a feel for the different cultures and the different ways cultures in society are run and how they handle different situations," Ellis says.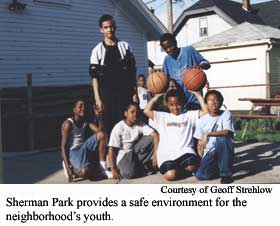 Other neighborhoods in the city have been segregated as long as residents can remember. Milwaukee has a history of segregation that wasn't always based on skin color. European immigrants once lived in separate parts of Milwaukee based upon their nationality. Italians dominated the 3rd Ward on the near south side while Germans held the East side and Polish the south side. As the black population began to increase in the 1950s and 1960s, the face of segregation changed, clustering together almost all of the 90,000 blacks into Milwaukee's inner city. The blacks there called it home, but the whites, who often fled to the suburbs, usually disdainfully called it "the core."
Today, the Census cites Milwaukee's dissimilarity index at 82.2 percent, meaning that 82.2 percent of blacks would need to move from the area to have 100 percent integration. It also states that almost 96 percent of blacks in the Milwaukee area live within the city limits and slightly less than 5 percent live in the suburbs. Although the ranking and the census analysis methods met with criticism from the Employment Training Institute at the UW-Milwaukee, the ETI still ranked Milwaukee 43 out of the 100 most integrated metropolitan areas, using a block-by-block measurement technique.

As for Milwaukee as a whole, Kelly cannot understand why it is still so segregated. "I honestly don't know," she says. "It was like that when we came. It's distressing. I just plain don't understand it."

Economics

Some Sherman Park residents speculate that their success results from economic differences between their community and some other areas of Milwaukee. "Economically, we have a strong middle-class component," O'Connell says. "A lot of times segregation is economic-based. People forget about that."

The difference in white and black income for the Milwaukee Metropolitan Area, according to the 2000 Census, sits at nearly two to one, meaning that blacks in Milwaukee, on average, make about half as much as whites.

This income disparity often affects the location in which Milwaukeeans choose to settle, resulting in the lack of a strong middle-class in many of the suburbs and in much of the inner city.

The average income of a community can also determine how safe it is perceived to be, which can attract or scare off potential residents. According to Shellee Lubus, community liaison officer for the 7th Police District and an eight-year Sherman Park resident, crime in the area is largely property-based and rarely threatens personal safety. It is also rarely tied to issues between races. The SPCA maintains a strong relationship with the police to ensure crime levels stay down.

"Things don't always go smoothly, but at least we have an association to work with to work out problems," Lubus says. "We're all willing to come to the table."

Although economics play a role in Sherman Park's story, many other factors help explain how the community manages diversity other neighborhoods cannot seem to achieve.

Housing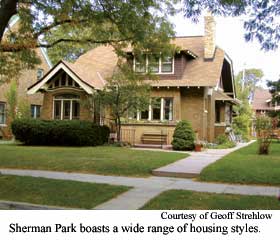 Sherman Park residents describe the housing in the area as impressive, affordable and stylistically diverse. Some residents moved to the area specifically because of the attractiveness of the houses. Oretha Harris, an SPCA volunteer and 10-year resident of the neighborhood, confesses that the houses, not the diversity, brought her to Sherman Park. "Honestly, it was the homes," she says. "Ever since I was a child I dreamed of living in one of the Lannon stone houses. The neighborhood is just beautiful."

According to O'Connell, property values in Sherman Park have risen in recent years, while some city neighborhoods have seen value fall.

Perhaps the rise can be attributed to the eclectic mix of homes in the community. Bob Olin, owner of the Sherman Perk and a 22-year resident, describes the variety that makes living in a Sherman Park home a wonderful option. "The housing stock is extremely desirable," Olin says. "There's a mix of housing from the '20s, '30s and '40s. And because it's city property, it's much more affordable than the suburbs."

Experts often cite the lack of affordable housing in the suburbs and the difficulty people of color face when applying for insurance and loans as primary reasons for segregation. According to the Milwaukee Metropolitan Fair Housing Council (MMFHC), the Realtor Code of Ethics in Milwaukee between 1924 and 1950 went so far as to mandate that "a realtor should never be instrumental in introducing into neighborhoods members of any race, nationality, or individuals whose presence will clearly be detrimental to property values."

Although laws no longer exist to keep blacks isolated in the city as they once did, other loan practices may have taken their place. Some community watchdogs suspect that practices such as redlining still occur in Milwaukee, as in many other urban areas. Redlining describes the act of tracing out certain areas, those that are seen as poverty-stricken or high-risk, and denying property insurance to anyone living in those areas. This practice may account for the overwhelming statistics on loan denial rates for blacks. According to an analysis done by Association of Community Organizations for Reform Now (ACORN), blacks in Milwaukee were more than five times more likely to be denied conventional mortgage loans than whites in 2003.

Because Sherman Park offers affordable housing, lower-income families have an easier time settling there. SPCA helps such families by being a watchdog against discriminatory housing practices that might threaten the community's integration.

In addition, residents take pride in the appearance of the community. According to Kelly, every spring a group will drive through the blocks looking for houses that may need painting and garbage that has lingered too long in the alleys. SPCA encourages residents to turn on porch lights at night and to pick up litter. "These things contribute to the overall ambiance of the neighborhood," Kelly says.

Community Involvement

More than anything else, Sherman Park residents attribute their diversity to strong community involvement and programs spearheaded by SPCA. According to O'Connell, all 15 SPCA board members live in the community, and the association has appointed volunteers called "block captains" to take care of resident concerns on a block-by-block basis. The board members and SPCA volunteers represent the full spectrum of ethnicities in the neighborhood and address pertinent community issues.

James Hiller, SPCA volunteer and a 19-year resident of Sherman Park, finds the combined efforts of different community members a matter of necessity. "I think there are interests and challenges which are common to people in families irrespective of race, gender, nationality and so on," he says.

Because of this, SPCA deals with other societal issues like quality of education, care for the elderly, the provision of resources for families, pollution and unfair business practices. The association also hosts festivals throughout the year - literal celebrations of diversity.

This tight-knit community produces residents who work hard to attain the quality of life they want. "When you develop roots in the community, you develop a sense of responsibility, and this translates to action," Hiller says.

Those roots lead many Sherman Park residents to remain in the area for decades. "I think people have a hard time leaving a place where people really care about community," Harris says. "I used to live in the suburbs, in Franklin, and I could never move back."

Sherman Park's progress gives Ellis hope for the future of the greater Milwaukee area. Although he is only 15, Ellis already takes an active role in the community as an SPCA volunteer. "I think that if you find out how the different races came together to live in peace, that result will lead to the coming together of one giant community, hopefully making Milwaukee a community that is unified and not segregated," Ellis says.

Perhaps unique obstacles stand in the way for other, more segregated parts of the city. But through a combination of efforts, Sherman Park residents work together despite their racial and religious differences and strive to make the community even more integrated.

"I don't know what the real ingredient is," Hiller says. "But there's some magic in Sherman Park."

For more information, visit the following sites:
UWM's Employment and Training Institute: Examines a study conducted on racial integration in urban America. This study is known for "exploding the myth" of hypersegregation in Milwaukee.
City of Milwaukee Department of City Development: This site provides links to census data as well as housing resources.