It's a chilly December night in Beverly Hills, and Daryl Stuermer is sitting off to the side in the packed Beverly Hilton hotel. It's 1993, and he's eating with one quarter of the legendary band Crosby, Stills, Nash and Young — guitarist David Crosby — when Oscar winner Dustin Hoffman pokes his head into their conversation to make a joke. Stuermer turns to see Clint Eastwood enter and then his eyes scan across and notice Maya Angelou, Sidney Poitier, Tom Hanks and Steven Spielberg. Mel Gibson, in his heyday, has the microphone.
"I'm saying, 'What's wrong with this picture? Why am I here? I'm from Milwaukee,'" Stuermer says.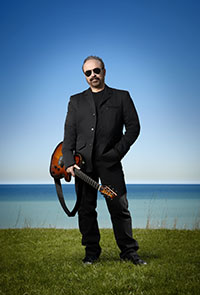 This star-studded scene is but one snapshot in a 30-year career in rock and jazz that has taken 60-year-old Stuermer across the world and onto the stages, stereos and iPods of several generations. Yet as he sits in a Whitefish Bay coffee shop and casually recounts his decades of fame and his passion for music, his affable style and Midwestern sensibilities appear unchanged by years traveling the globe with the likes of Phil Collins and Genesis. It's clear Daryl Stuermer never really left Milwaukee.
Few people are lucky enough to truly know what they want to do in life. Even fewer are actually able to follow those dreams. But by age 11, Stuermer knew that his true passion lay in music. Born and raised in a blue-collar family in St. Francis, on the south side of Milwaukee, it was Stuermer's older brother who first introduced him to the guitar, and for the next several years, Stuermer thought of little else.
As a young boy growing up in a large, diverse city with a small-town feel, Stuermer remembers being influenced early on by popular artists of the time like The Animals and The Rolling Stones. As he grew up, so did his musical tastes, and soon he was eagerly delving into less mainstream artists and edging towards more progressive rock bands. After high school, Stuermer focused entirely on his music — no distractions, no side jobs, besides teaching the occasional guitar lesson. His hard work paid off. By the time Stuermer was 20, he and his brother were beginning to make a name for themselves within the Milwaukee music scene with their band, Sweetbottom.
In 1972, the band was in the process of auditioning lead singers and happened upon Cleveland native Michaela Carey. "I knew I wasn't the right singer; I had a kind of a lighter jazz voice," she says. "But that's how I met him and we started dating."
Carey eventually found a different band, but the pair continued to date over the next few years. Meanwhile, Sweetbottom had a gig playing five nights a week at a local nightclub, and Stuermer hoped that this could be the band that got them out of the confines of their hometown bubble. It turned out that this prediction was correct.
One night, Sweetbottom was fortunate enough to have Frank Zappa's Mothers of Invention sit in on their set. It was then that their keyboardist, the late George Duke, had a chance to witness Stuermer's guitar skills. Impressed, Duke told Stuermer he was going to mention him to famed jazz violinist Jean-Luc Ponty. Duke followed through on his word, and Stuermer found himself on the shortlist for an audition for a spot as a guitarist on Ponty's upcoming tour.
Stuermer recalls being terrified flying to Los Angeles to audition. In addition to this being his first big break, this was his first trip outside Wisconsin on his own.
The whirlwind of change was unrelenting as Stuermer sat in Ponty's Laurel Canyon, Calif., living room, had sheet music placed in front of him and was simply asked to play. This whirlwind continued when, after playing only a few songs, Stuermer was immediately offered the job.
When Stuermer decided to move to Los Angeles to be closer to Ponty's rehearsals, Carey went with him. After only a few months, Stuermer was touring the United States with Ponty's band. Within a year, he was playing to crowds all over the world.
Stuermer toured with Ponty for the next three years. For someone who had only recently departed his home state and was elated to receive a passport, playing for thousands of people internationally was terrifying, but it was his dream come true. Ponty's jazz expertise combined with Stuermer's own talents led to the evolution of Stuermer's unique, progressive jazz-rock style. Ponty eventually decided to take a break from touring. But in the meantime, he recommended Stuermer for what would turn out to be the audition of his lifetime.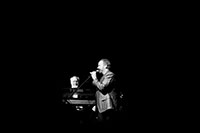 Stuermer got off his flight to New York in 1977, armed with only a suitcase, his guitar and a cassette tape. For weeks, Stuermer had been practicing the five songs on this tape over and over and over, and it was imperative that he execute them flawlessly. The audition was for Genesis, a band that, even then, had gained prestige and a fervent following that filled arenas worldwide and still brings to mind a myriad of hits today.
The audition was simple, involving only a cassette player, a pair of speakers and Stuermer's guitar. Genesis lead guitarist Mike Rutherford directed Stuermer to play along, but after about a minute would change the cassette to the next song.
"I thought, 'Maybe I'm not doing very well, because he doesn't want to hear me play at all.' So I get to about the third song and he says, 'You know what, that's fine, I think you're the one,'" Stuermer says with a laugh, applying a British accent of his own to quote his tour mate, not so much mocking as alluding to the familiarity they have developed over the years.
From 1977 until their most recent tour in 2007, whenever Genesis toured, Stuermer was their guitarist. In 1981, Genesis lead singer Phil Collins approached Stuermer to become a permanent member his newly formed solo band. Because the two groups shared members, they alternated tours. Only a few years after truly breaking into the business, Stuermer was regularly playing to amphitheaters and stadiums of tens of thousands of people.
In 1978, Stuermer and Carey married, and by the early 1980s, Daryl and Michaela Stuermer were commuting frequently between their home in Los Angeles and a rented apartment in London, where Genesis was based. Upon the birth of their daughter Kelly in 1981, the couple decided that the transient and superficial lifestyle of Los Angeles wasn't the best fit for their family and decided that they wanted to relocate somewhere more in line with their Midwestern values.
Genesis insisted they were willing to fly Stuermer to London from wherever he and his family were based. Ultimately, the fact that London was so far away is what brought them back home to Wisconsin, to Milwaukee.
"It was my first year with Genesis, around 1978, and I was saying, 'If I ever move back to Milwaukee, is that going to be a problem?' They said, 'Why? You're actually closer to London!'" Stuermer says.
Stuermer knew the importance of settling in a town with a good public school system for their children and a down-to-earth community, as did his wife. "Milwaukee is a great town to raise kids … I really wanted the friend and family support. And, my parents were only an hour flight away … In the Midwest there's nothing to replace old friends and Midwestern values," Michaela Stuermer says.
Stuermer's career, which was skyrocketing at this point, surprisingly made little impact on where to settle down with his family. Michaela Stuermer noted that despite his intense passion and dedication to what he does, her husband has always been more focused on his family than his career.
Providing for their children — their second daughter Fiona was born in 1987 — was undoubtedly the couple's top priority. Michaela Stuermer shelved her singing career and instead taught herself everything there was to know about the business side of the music industry. For the last 30 years, she has acted as coordinator, business advisor, wife and mother, and together, she and Stuermer have formed a true partnership around his music.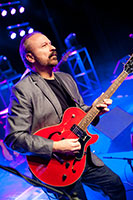 Michaela Stuermer says that although trying to find a balance between normal home life and Stuermer's career was a challenge, it would have been impossible if not for the accommodating management at Genesis and Phil Collins' band. The management continually arranged for Stuermer's family to accompany him on tour, a detail that meant a world of difference for a man whose two loves were often located on different continents.
Stuermer's modest, family-oriented demeanor makes it easy to forget just how many remarkable experiences he has had. In between stories of how he met Tom Hanks for the first time and the explanation of how he came to co-write a Grammy-winning song with Phil Collins, Stuermer emphasized his appreciation for the fact that the original Genesis members always treated him like a member of the band.
Everything about Stuermer vehemently rejects the stereotypical "rock star" persona, though that is undeniably what he is. This is a man who performed for a crowd of 500,000 people in Rome and the only thing he talked about was how he wanted to ingrain that moment in his memory forever. He's the type of guy who walked into this interview wearing a well-worn windbreaker and jeans and yet proceeded to tell a story of the time he and Phil Collins performed at the Oscars.
It is therefore no wonder that, especially since Genesis and Phil Collins tours have tapered off, Stuermer still sells out venues to fans who are eager to hear him play. Stuermer and the members of his five-person band weave Genesis pieces and songs from Stuermer's previous work along with his own instrumental songs. It's a show that is different every time, and it is clear Stuermer loves it that way.
"[Stuermer] lives, eats and breathes guitar," Michaela Stuermer says affectionately. "He loves it as much today, or even more so than he did when I met him."
Stuermer has been recording his own albums for decades and has built an impressive discography. Stuermer's most recent project takes pieces one would normally hear at one of his typical concerts and turns them into orchestrations to be played by symphonies that back his band at various concert halls.
"Some people are slowing down at this stage in life, but he just really likes a new challenge and loves everything to do about the music business," Michaela Stuermer says.
Despite Stuermer's long career, multitude of impressive achievements and enthralling stories, he remains in a way that 11-year-old kid from Milwaukee who wants nothing more than to play music. "It doesn't matter where you're from," Stuermer says, "as long as you've strived for something, and I feel like I've never worked a day in my life."
Check out The Sound of (Wisconsin) Music for more artists from Wisconsin.