Thousands of years ago, the last glaciers retreated across Wisconsin and parts of the Midwest. They left the physical base for Wisconsin as it is today, the forested land among minor bodies of water, generally flattened terrain adjacent to the Great Lakes.
In certain areas, the remnants appear to be carved by an artistic hand. Door County is one of those areas, fashioned by ice and water into a peninsula that has become one of the most adored tourism locales in the region.
That ice and water combined with dolomite rock to define the eastern border of Green Bay. Meanwhile, the low-lying area even further east would thaw into what is now Lake Michigan. The borders were born and, indirectly, that ice and water from millions of years ago created the opportunity for ice cream and watersports for Door County tourists.
The Door County peninsula is best known for its high season, the summer months that grind travelers to a crawl on Highway 42 as it bends and weaves up the shoreline.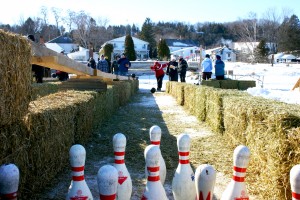 But much like the glaciers that melted and formed a landscape of opportunity, the warmth cedes to winter chill and Door County is modified for new sights and activities. The area known for its summer and fall attractions does anything but freeze up in the winter.
Known for its natural beauty — some of it due to the Niagara Escarpment that produced the bluffs and ledges lining the western border — Door County is home to five state parks, each of them containing hiking trails and the kind of scenery people map vacations around.
When dressed with snow, in four of those parks those walking paths transform into cross-country skiing trails, each one scattered in a corner of the peninsula. More than 45 miles of groomed ski trails keep the state parks in use when the harsh Wisconsin winter climate would favor them otherwise.
Snow and frigid temperatures might arrive by Thanksgiving, but those trails require more than a simple dusting to be cross-country worthy; six inches of snow is a common base minimum. Though a Wisconsin winter can end in March or limp through April, the skiing season hits its stride during January and February. The transition between these two months marks one of Door County's beloved winter events: candlelight skiing.
Seven years ago, Nick and Gail Anderson wanted to share their pastime with others in a much different way, so they set out to beautify cross-country skiing.
Using the depth of night and the reflecting snow, the group ignites the forest with about 300 luminaries scattered throughout a one-mile course at Peninsula State Park.
The night ski epitomizes leisure, blending a hobby with exercise and blanketing the trees and snow with candlelight and shadows. The silence is broken only by the whispered conversation of fiberglass and snowflakes.
With just 25 devoted volunteers, the candlelight ski event is limited to just one night a season — the eighth annual event takes place in February 2014 — and ideal conditions are never insured.
One year, a few balmy days were followed by a few freezing ones, turning the parking lot into more of an ice rink, forcing the group to cancel the event. However, what seemed like a temporary stain on the candlelight ski eventually made it a better event.
"We now allow hiking [during the event], because not everybody skis," Gail Anderson says. "We decided three years ago that, if we can't even ski, we're still going to hike on the trail."
The event put on by Peninsula State Park — aided by Friends of Peninsula State Park, a non-profit — has ballooned to include anywhere from 1,500 to 2,000 participants each year.
But cross-country skiing in Door County isn't something that needs darkness and luminaries — or even the Andersons. The state parks are open daily and multiple stores rent or sell skis throughout the season. It's a winter-long deal at Door County's parks, once again, weather permitting.
Adam Jacobs endures a similar weather dependence with his activity of choice.
Jacobs finishes his typical workday around 4 p.m., heading out to the frozen shoreline of Green Bay. Alongside him are a kite and a pair of skis, different from the ones used by the Andersons. Jacobs takes his alpine, or downhill, skis, locks his boots in like an Olympian and instead of letting the wind get in his way, he puts it to use.
Jacobs is a snowkiter, or a windskier, whichever unofficial name fills the purpose. He uses an 86-square-foot kite, which flies about 100 feet in the air, is anchored to his body, and is maneuvered by the reigns in his hands.
Similar to sailing, the kite fills with wind as he aims the nylon to catch and direct him. There are no ski lifts for Jacobs and rarely anyone on the open ice that is his ski hill. All he needs is wind. If he gets enough, it's the perfect winter sport for him in this less-than-mountainous state.
"We're so far from any ski hill, and if you look at the cost of the equipment … that's about the equivalent of what you'd spend on gas, meals and a lift ticket going to the hill," Jacobs says. "There's been so many times where I get done with work at 3:30 or 4 o'clock in the afternoon … I still am able to go out and get a half-hour to 45 minute session in before I go home and the day is done."
Jacobs' equipment and Door County's landscape and relatively high wind speed averages essentially give him a season-long lift pass.
Jacobs, who has been snowkiting since 2011, expertly flows along the shoreline, up to 45 mph by his estimation. With the wind at his back, cruising over the ice and snow, he surveys the cliffs and ledges of Door County's summer obsession.
"It's nice if you're out there at sunset and the light is shining against the bluffs. It's an amazing experience."
Jacobs' biggest benefit is winter-long opportunity. Bob Yttri doesn't have that luxury.
Yttri is the owner of the Red Putter miniature golf course a few miles north of Jacobs in a town called Ephraim. Entertaining tourists all summer long from his tiny booth at the Red Putter, it's clear to see that Yttri adores his course. Simply put, he loves mini golf and is a fan of anyone lining up his or her next hole-in-one.
Every August he opens up the course for the Red Putter Pro Tournament, where anyone who shoots an even-par 41 or better throughout the year is eligible to compete for the grand prize that, depending on the number of entrants, can be worth as much as $2,000. The event brings in anywhere from 70 to 100 participants at the peak of summer. That's when things are nice. Five months later, it's another story.
Every New Year's Day, Yttri, joined by his daughter and son-in-law, reopens the course for the Frostbite Tournament, geared for the ultra-committed mini golfer, the only qualification being a will to brave January temperatures.
The event comes at a time where most are busy with the holidays. It made things difficult for Yttri to plan the inaugural tournament, but with plenty of willing players, the mini golf enthusiast just couldn't say no anymore.
"People wanted me to have [a January tournament]," Yttri says. "The Polar Bear Dip is at noon, the Egg Harbor parade is at one o'clock, so then I decided, 'Okay, we'll have it at two o'clock, but we'll only play two games so we can be done pretty close to the kickoff time at the Rose Bowl.'"
So far, the timing has worked out well for the Red Putter. The 2014 Frostbite Tournament will be the fourth annual competition and it continues to grow each year. Yttri expects between 40 and 50 golfers to compete, paying $25 for a shot at the winner's pull of $700.
Yttri doesn't make any money on the event; he's there for the love of the game and for others who love the game. January is not June, so he might not be sporting his iconic black top hat and red polo, but on New Year's Day with his face turning red from the cold, it's clear to see how he feels about mini golf at the Red Putter:
"It's just all fun," Yttri says.
If the typical harsh February weather doesn't warrant recreation or fun on the mini golf course, Door County residents might attend Fish Creek's Winter Festival, a quirky, yet signature event every February in one of the county's quaint townships.
The landscape of Fish Creek actually causes travelers to come to a stop. A winding highway hill brings cars to a stop sign, thankfully, as they might otherwise end up in the nearby harbor, especially during a slippery winter. It's that icy harbor that Fish Creek residents and visitors employ every year during the festival.
"Winter Fest started … before things stayed open in the winter, people needed something to do up there," Erin Sutton, marketing coordinator for the Fish Creek Civic Association, says. "So they wanted to get all the locals together and celebrate, and it's become more than that now. It is truly just kind of a celebration of winter."
It makes sense that a county that celebrates Festival of Blossoms in the spring, Summer Festival and fireworks in July and Fall Festival in October would also arrange a winter festival.
What started as an event geared toward the local residents has now grown into something that draws nearly as many tourists as locals, according to Sutton. The main attraction isn't just being in one of the tourism capitals of the region. People are drawn to the eccentric events that keep the county awake during the stagnation of winter.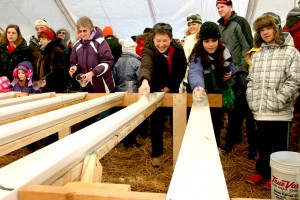 The event is a frozen spin on the typical county fair, with bizarre games centralized in and around Clark Park. In 2013, this included a bike toss, where participants simply wind up and launch a bicycle as far as they can. Then there's minnow racing, in which contestants pit their small swimmers against others in a 10-foot sprint. The clear fan-favorite is human foosball, like soccer, but with players only able to move laterally on the snow-covered ice, connected to rope within a boarded arena. These unique games are just a small fraction of the activities and events offered throughout the three-day festival.
"It's a unique event," Sutton says. "People enjoy playing in the tournament and they also enjoy watching it."
As if unusual didn't already describe the Friday and Saturday trials, the show wraps up Sunday with the "Fruit Loop Run," stretching one-fifty-third of a marathon — roughly a half-mile — in which contestants run or walk around a few town blocks, downing free Fruit Loops and milk when they finish. Costumes are highly encouraged and affectionately judged. It ends up being the tipping point of the frosty months.
Winter Fest is not only the celebration of winter, but falling as it does during the first weekend in February, it marks that the cold season is in its final months. Throughout the winter, Door County hustles outside for a different seasonal recreation, soon to be met by a different seasonal responsibility. Tourism is once again on its way.
April and its showers follow before the month of May ensues, back-ended by Memorial Day, which once again marks the end of the unusual and the start of a new summer on the Door Peninsula.