As Lauren Simon was losing her dad to leukemia the summer after her freshman year in college, his words continuously echoed in her head. "You're going to cure me." "I'll be better." "You're magic to me."
Magic was more than just a phrase. It was her father's nickname for her, the word he used in place of Lauren, on letters when she was away at camp or out loud as she walked in the door.
As she thought of ways to honor him, she considered a tattoo, but simply "Magic" seemed cliché. She turned to a friend, who said "magic" in Hebrew was beautiful: "kesem."
She liked the sound of it and turned to Google. As she sat in front of her laptop screen, the initial results for "kesem" washed their own wave of magic over her. Camp Kesem: a summer camp for kids whose parents have or had cancer.
That result opened the door to a more inspiring way to honor her father. Simon spent countless hours over three years developing Camp Kesem's UW-Madison chapter, hosting their first 15 campers in 2010.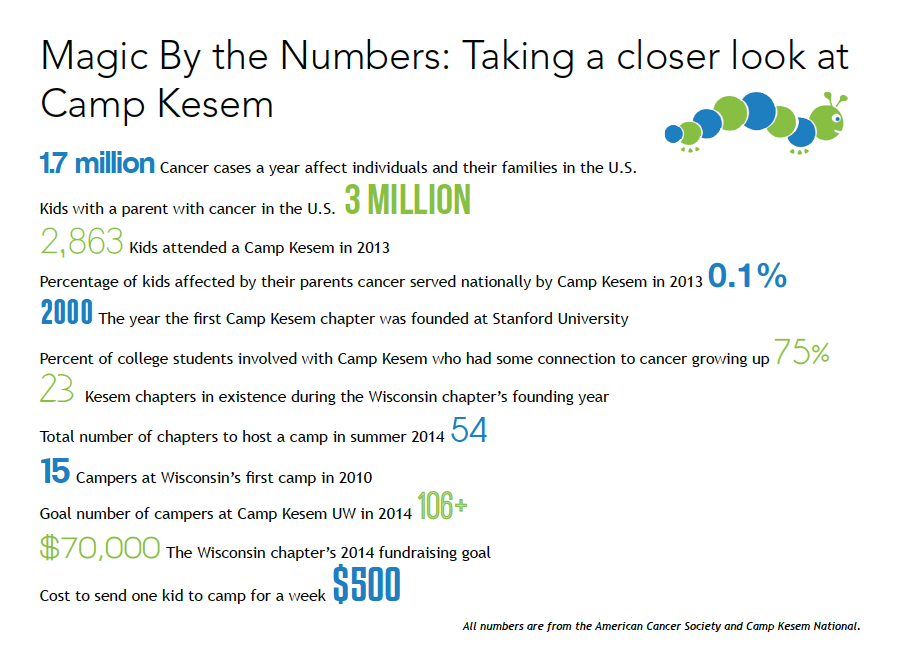 As one of 54 U.S. universities with Camp Kesem chapters, the UW-Madison group spins its magic for one week each summer. For those seven days, students provide a supportive camp community that recognizes and understands the unique needs of kids whose parents stare down cancer. Camp Kesem is the place these kids get to go to just be kids.
During one magical week these kids don't have to worry about the horrible disease that made their mom bald, forced their dad to continuously be sick or, in too many cases, took one of their parents from them forever.
At Camp Kesem, kids don't use their real names. Everybody gets to be somebody totally different as they go by their camp names all week long. Despite the humorous nature of some of these camp names, such as Sir Dogington VI, this is a serious Kesem tradition.
Coming to camp for the first time as a 15-year-old, Nico, known as "Teen Wolf," was skeptical of the idea of a summer camp. "There was no way I was singing any of those songs," he says. But his attitude quickly changed after the first few songs on the bus ride to camp. "Who cares? You're being a kid. You're having fun," Teen Wolf says.
Teen Wolf's 8-year-old sister Olivia, whose camp name is "Kitty," put her feelings into words simply: "It's a good place, and it makes me feel safer, and it makes my feelings better," Kitty says.
MORE THAN A SUMMER CAMP
The magic of Kesem goes beyond the campground setting or the weeklong time frame.
Bill Mulcahy has sent all three of his sons to camp for the past two years. As a psychotherapist, he was hesitant to expand his sons' circle of protection outside their nuclear family.
"When you lose a parent, you can shut your world down or you can grow it," Mulcahy says. "And it was at that moment [when encouraged by a client to send his kids to camp] that I decided my world had to get bigger."
He realized that somebody else could help his kids, and today Mulcahy emphasizes the support his family gets from the UW-Madison chapter. "I know there's this great support network out there that's always pulling and praying and thinking about us in our corner," he says.
When Andrew Veith was nearing the end of a losing battle with cancer last year, two counselor alumni and another Kesem family took his four kids to a Build-a-Bear Workshop in Minnesota to create bears and insert recordings of Veith's voice into them for each of the kids.
The camp network reaches beyond the weeklong attendees and connects families facing similar fights against cancer. Kimberly Carr has had sons attending Camp Kesem Wisconsin since its foundation.
Over the past year, Carr found herself facing another potential cancer diagnosis.
"There's something about being with other parents who have been through a lot of the same things you have," she says. "None of my friends [at home] could relate to that or understand that, but my Camp Kesem parents that I was friends with could."
NOT A THERAPY SESSION
According to Jane Saccaro, the national organization's CEO, research has shown that children of people with cancer need three things: open and honest communication, a solid sense of support and peers who understand them.
Campers can return to Camp Kesem every year from ages 6 to 16, and even beyond as counselors-in-training, counselors and alumni. Saccaro points out that this lifelong connection is critical.
She says that children whose parents are affected by cancer do not get everything they need in group therapy session in a hospital. "Kids digest things through play and through relating to one another," Saccaro says. "We're able to give them what they need most almost without them realizing we're doing it."
NOT THE SAME KIDS WHO ARRIVED AT CAMP         
Karl Kesem, a light green and blue cartoon caterpillar, is the symbol for Camp Kesem. He represents the transformation caterpillars go through to become butterflies, which represents the transformation that occurs in campers and counselors at Camp Kesem.
Kimberly Carr has had two sons attending Camp Kesem Wisconsin. She says she noticed a significant difference in her 10-year-old son Miles, known as "Kilo" at camp, after his first year at Camp Kesem. She says that Kilo found his own voice and became less dependent on his older 14-year-old brother Graham, whose camp name is "Undies."
Since attending camp, Carr has noticed her sons wanting to volunteer for things and help others more.
An important turning point occurs at camp midway through the week. On Wednesday night each year, the entire camp — campers, counselors, nurses and other staff — sit in a circle and share what brought them to camp and what Kesem means to them. This is called the Empowerment Ceremony.
Before his first Empowerment Ceremony, Teen Wolf did not understand its significance. He thought, "Why are they having us do this? This is so depressing."
"But then after I got my turn and shared what I thought and what happened to me and Olivia, it was like a weight off your shoulders because you were able to tell someone," Teen Wolf says. "Being able to share where nobody's going to judge you for what you say was a really good experience.
NOT FULFILLING THE NEED
Cancer affects 1.7 million people in the U.S. each year. This results in over 3 million kids whose parents are or have been affected by cancer. Camp Kesem is the only national organization that is serving these children, according to Jane Saccaro.
In 2013, Camp Kesem served only 2,863 of the 3 million kids dealing with a parent's cancer.
Over 75 percent of the college students involved with Camp Kesem have a family member affected by cancer.
"Bad things happen to people every day," Saccaro says. "What is unique about Kesem is we have student leaders who are taking really crappy things that happen in their lives and they're using them to transform and better the lives of kids just like them."
UW-Madison's chapter has had significant growth in its first few years. From 15 campers in its first year, to 38 campers the second, to 66 campers the third year, to 88 campers last year, UW-Madison is aiming to provide camp for over 106 campers in 2014.
Despite Camp Kesem Wisconsin's rapid growth, there is still a huge need to serve this unique group of kids in Wisconsin, according to Lenny Kass, a Camp Kesem UW advisory board member. UW-Madison is looking to expand their Camp Kesem chapter to serve more of the kids who are affected by a parent's cancer in the Milwaukee area.
Since Kesem is free for the families, fundraising is crucial as chapters expand. For the UW-Madison chapter, the cost this summer will be $500 to send one child to camp.
"If I ever win the lotto, half of it's going to Camp Kesem," Simon says.
NOT LIKE OTHER CHAPTERS
Every Camp Kesem chapter needs to meet specific requirements from the national organization. That being said, Camp Kesem Wisconsin, which Katie Roth co-founded with Simon, is a Kesem of its own breed.
Any of the parents of campers who have attended Camp Kesem Wisconsin could tell you this chapter takes its school pride to another level. From singing "Varsity" in the closing circle every night before bed to donning Badger bibs at camp for at least one day during the week, UW-Madison counselors cannot contain their love for their school.
Almost all of the Camp Kesem campers aspire to be Camp Kesem counselors when they grow up. More specifically, many of them want to be Badgers.
This is the case for Carr's sons, despite living across the Minnesota border. Carr said the counselors at Wisconsin's camp are tremendous role models, and she can't think of a better outcome than for her boys to go full circle and become Kesem counselors in college.
When Camp Kesem Wisconsin received their first application from a camper with a disability entering its third summer, the executive board did everything it could to get the child to camp. Mulcahy never thought his son Luke, who has autism, would be able to attend Camp Kesem. It is still hard for him to believe. But Luke, who goes by "Big Red" at camp, has attended camp the last two years.
"They made it their goal, and they said, 'We're going to make it possible for Big Red to come to camp because he deserves it just like any other kid," says Rachel Firestone, a former program director with the national organization.
In addition to school pride, Camp Kesem Wisconsin has a deep understanding of the importance of the leadership aspect of the organization. A camp director by trade, Kass was initially skeptical of a group of college students hosting a summer camp. But he has since seen the magic made at camp and has become an active advisory board member for Wisconsin.
"UW-Madison has set a benchmark that I have yet to see another chapter follow," Saccaro says.
MORE THAN MAGIC                                                                                                           
Kesem means magic, but Camp Kesem is more than that.
"Magic is an amazing thing," Teen Wolf says. "There's different kinds of magic. You go downtown and someone does a magic trick for you. You make someone fall in love with you with magic. And I think there's all of those things at Camp Kesem."
Mulcahy struggles to describe what Kesem means to him, but he settles on one word that's not magic: love. He says that Camp Kesem means an enduring love that the Kesem family has for his kids.
"It's what the magic is," says Mulcahy.
– – –
It has been four years since Simon first learned about the word "kesem" in her search for an appropriate tattoo to honor her dad. Today she has her kesem tattoo. It's on her wrist, right beneath her Karl Kesem silly band.
"When I first reached out," Simon says, "I was in a pretty terrible place having just lost my father, and trying to get back to school and pretend like everything is normal."
Having a parent diagnosed with cancer is not normal. And Camp Kesem is not a normal summer camp.
Carr said that some of her favorite memories connected to Camp Kesem include going into her backyard and seeing her youngest son swinging and singing the camp song "Razzle Dazzle" to himself.
Reflecting on the first time her sons returned from camp, Carr says, "When they came back in the house, they were the kids I had before I had cancer. They were kids again, and they were so excited and so happy."
Check out the map of campers' hometowns and the hosting locations of Camp Kesem for more information.