Scattered fields of golden wheat stretch for over a thousand acres across the century-old farmland on Washington Island. Surrounded by lush trees and rolling hills, this hard red winter wheat stands tall with roots firmly planted in Wisconsin soil. Out of these fields has grown a local craft distillery with national reach – Death's Door Spirits.
What started as a sustainable agricultural project turned into the largest craft distillery in Wisconsin, with products distributed domestically and globally.
Brian Ellison, founder, president and CEO of Death's Door Spirits, was working with economic development firm Vandewalle & Associates when he began a project to restore agriculture to the Washington Island economy in 2005.
"They wanted to bring farming back to Washington Island," Death's Door Spirits national brand manager John Kinder says. "The fields had laid fallow for years."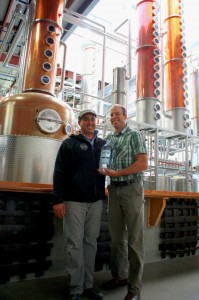 For many years, the island off the coast of Door County was known for its plentiful potato crops. But by the mid-1970s, large-scale potato farming died out and tourism overtook agriculture as the primary economy on the island.
"Washington Island is pretty typical of island economies in that they – island economies – typically deplete their resources and then have to find another thing to do," Ellison says. High ferry costs hindered the agriculture industry as well.
Ellison and his like-minded co-workers desired to create an economic opportunity for the island other than tourism. "Because, tourism, let's face it, Washington Island, is really only open for tourism five months out of the year," Ellison says. Ellison wanted to create more than economic opportunity – he wanted to create something valuable. "How do we create opportunities for [islanders] to send something off the island that has high value as well as high story that allows there to be greater connection to the place and greater returns?" Ellison says.
With the help of Capital Brewery, Island Wheat beer was born. With this success, Ellison looked into creating distilled spirits out of the island wheat. "At that time, it was just one of those things that there weren't many craft distilleries around," Ellison says. "I couldn't find anybody to really make the product for us, and so I started learning distilling myself."
Ellison took distilling classes at Michigan State University. "It was just sort of a nights and weekends project for me, running around in my station wagon," Ellison says. Out of the hard red winter wheat from Washington Island came Death's Door's vodka in early 2007. Gin with spicy, citrusy flavor and white whisky with notes of vanilla and dark cherry followed.
"As the success grew, it became more and more evident that it seemed like there was a really big opportunity for locally made spirits with a specific ingredient grown somewhere locally, connected to farmers," Ellison says.
These farmers are islanders and brothers Tom and Ken Koyen. The Koyens partnered with Ellison in 2005 to grow wheat on the island. Today, the Koyen brothers are still the only two farmers growing wheat for Death's Door.
Death's Door creates its products using local ingredients, such as organic wheat and juniper berries from Washington Island paired with barley from Chilton. "Wisconsin is important to us," Ellison says.
More narrowly, Washington Island is important to Death's Door. "We're inexorably linked to the success of our product and our product is inexorably linked to Washington Island," Ellison says. The place and the product have found themselves in a reciprocal relationship.
"This isn't something that was hatched in a marketing office," Kinder says.
Just as Washington Island affected Death's Door, Death's Door affected Washington Island. "[The wheat grown for Death's Door] definitely has brought agriculture back to the island," Ron Doetch, the agriculture director for Death's Door, says. "It brought up the significance of agriculture on the island and the possibilities for agriculture to provide economic benefit to the island."
As a result of wheat crop rotation, certified organic oats, hay and barley leave the island and go to market. While the Koyens originally planted five acres of organic wheat on the island, there are now over 800 acres of organic, hard red winter wheat under cultivation.
The Koyens would not be harvesting this amount of wheat if not for Death's Door and Capital Brewery. "We may be harvesting enough to make a little bread, but as far as trying to put it on the regular market, no, we can't afford to do that because our expenses are so much more," Koyen says. The Koyens need to be selling the wheat in a lucrative market, such as liquor, in order to make a profit. "We have the ferry charge to get rid of our products too, so we have to have a deal in a higher-end market in order to make it pencil out." They do.
The biggest economic benefit to the island is the increase in tourism, Doetch says. "Ferry trips are up. The number of people that are coming over to Washington Island to actually see the island, or know that the island is there, see the wheat fields," Ellison says. "We have some people that want to meet the farmers, so we set up meetings so that they can meet them. People who want to come over and learn the story of Washington Island, drink Death's Door Spirits when they are over there."
This relationship boils down to more than distilled spirits. Death's Door sponsors a $5,000 collegiate agricultural scholarship for islanders and annual events such as the Juniper Harvest Festival. "It's a big weekend for Washington Island," Koyen says.
The sixth annual Juniper Festival brought more than 100 Death's Door sales people from Germany to California to the island to pick juniper berries, explore the island with a scavenger hunt and enjoy a pig and beef roast. "The Juniper Harvest Festival for us is an opportunity to connect with people and give back to the island," Ellison says. "It's our way to say thank you to them, and in some ways, hopefully just [show] a mutual appreciation."
The festival is held in the fall after the busy tourism season in the summer. "It's a good time to bring people so they get an extra weekend of tourist traffic up there," Ellison says.
The Juniper Festival is intended to support the island and engage people with the story of Death's Door and Washington Island.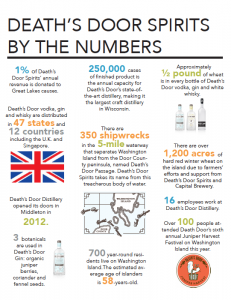 "Whether they be consumers, buyers, bartenders, people who sell our products, kind of pull them more into our story so that they understand that what they're selling and drinking or serving, there's a real place behind that," Kinder says. "They are real people that we're working with."
There is wide range of sentiment toward Death's Door on the island. Some islanders support the company by wearing Death's Door T-shirts and actively publicizing the brand. Others don't share this pride. "There's just skepticism about how long they're going to be around. It's a small town,"  says Jesse Koyen, son of Ken Koyen and postgraduate student at UW-Madison. "I have high hopes for what they are doing and continue to do in the local community … their hearts are in the right place, which is sort of rare in business."
"I think the majority of the islanders are very proud," Ken Koyen says.
In 2007, Death's Door distributed between 700 and 900 cases of product. This year, out of their state-of-the-art distillery, Death's Door hopes to distribute close to 40,000 cases of product to 47 states and 12 countries, including the United Kingdom, Canada, Singapore and China. The distillery received national press from outlets such as Fox News, The New York Times and The Chicago Tribune. Wine & Spirits Magazine named Death's Door's gin a winner of their "Best Spirits" award in 2009.
"It would be different if we were making a really cheap product … but the fact that we are a super premium product made specifically from the grains and the story of Washington Island is a part of what we are doing," Ellison says. "That really allows people to be proud of who they are and what we are doing."
Death's Door wants to continue the story. The brand is looking into planting coriander, fennel and barley test plots on the island, as well as increasing the juniper crops on the island. "The ideal is that every single ingredient that goes into our product is made on Washington Island by Washington Island farmers," Ellison says. "Will we ever hit it? I don't know."
Death's Door aspires to produce small batch whisky, create a distilling interpretive center or build a distillery on the island. "We are always constantly going back and forth between how do we bring Washington Island to the distillery and how do we bring the distillery to Washington Island," Ellison says.
What began with test crops in the fields of Washington Island almost a decade ago continues in the same flaxen fields. "I think that what we do and where our story is, and sort of where our soul is, is with the people of Washington Island," Ellison says.
Death's Door Spirits Around the World
Check out an interactive map of the product's global reach, from ingredient sources to key markets.