It all started with this prairie: this stretch of barren land between the green, rolling hills of Baraboo and Prairie du Sac. It's been stripped of the big white farmhouses, tall, waving oats, towering, knotted trees and the most beautiful, black dirt in the state of Wisconsin. Chain-link fences topped with barbed wire guard the yellowed, desolate wasteland; a few empty buildings and rusted signs that read, "U.S. Army. Restricted Area." The wind now blows a hollow echo across this land where my grandfather ran barefoot 85 years ago.
Thousands of years before that, a glacier lurched to a stop, carving this depression out of the Baraboo Hills and leaving behind rich soil that brought the Sauk tribe, pioneers and finally my grandfather's family to this pristine stretch of the Southwestern Wisconsin River Valley. But that all changed with an unfamiliar knock at the door of my grandfather's childhood farmhouse on a cold February day in 1942.
A war effort that consumed the nation would eventually consume this wooden farmhouse, this seemingly unbreakable German-Swiss family, this rich, black earth and the other 78 family farms in Sumpter. Years later, my grandfather would realize his life ended and began that day.
My grandfather, Robert Litscher, who everyone calls Bob, was born on April 20, 1924, in a cozy farmhouse near this prairie. America was prospering in the midst of the Roaring Twenties, Calvin Coolidge was president and my great-grandmother bought 50-pound sacks of flour at $2.50 each to feed her growing children and tall, broad-shouldered husband. His steady dark blue eyes illuminated from behind a mask of caked, black field dirt as his tired, calloused hands rested on the heavy oak kitchen table.
Life was hard, but it was good.
Beginning at the age of 5, my grandfather and his five siblings woke up at dawn to milk cows, gather eggs and clean horse stalls. After returning to the house for breakfast, they biked a half-mile to their one-room schoolhouse to learn about reading, writing and arithmetic.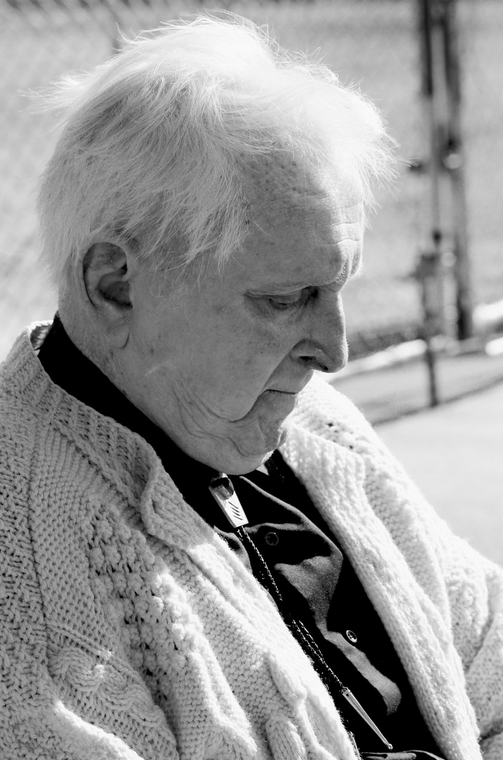 "Oh, he was just like all the rest of us," my grandfather's youngest sister, Elaine, remembers about him as a boy. "Rambunctious," she says, her shock of white hair bobbing as she slowly nods, staring off in the distance, beyond the beige walls of her nursing home, remembering a simpler, slower time of sunshine, wide-open blue skies and giggling children.
But, the events of a December day thousands of miles away in Pearl Harbor, Hawaii, would soon destroy those happy pastimes.
The knock on the Litschers' screen door that cold February day was a group of men in dark suits and hats from the U.S. government. Rumors had circled the area for months that the Sumpter community was being considered for a large ammunition plant to build bombs for World War II.
My grandfather's beloved brother and lifelong friend, LeRoy Litscher, who has since passed away, remembered the devastation that day brought to his family in a local newspaper article in 1997.
"It was a sad day in 1942 when the government man came to our farm on the first of February and told my dad, 'Here's a dollar. Here's your option. Move in 30 days.' That was the guy's idea of an option," LeRoy said.
The news reached a group of neighborhood men working in a Sumpter field. "Let it come," one of them challenged, believing World War II was being fought on some foreign land separated from the rich, black dirt they were standing on by thousands of miles and the invincible Uncle Sam.
The Litschers soon found out President Roosevelt had authorized $65 million to build the largest ammunition plant in the world right on top of their own 262 acres, the land of their close friends and neighbors, the Shimnioks, plus nearly 7,000 acres of surrounding farmland.
A great exodus began as residents furiously moved loads of hay, livestock, farm machinery, gates, household goods and even some houses that could be lifted off their foundations to their new farms. Some families stripped the boards off their homes to keep or sell for lumber. Most were forced to leave their mirrors, curtains, light fixtures and other furnishings behind, as their homes were to be used as U.S. Army offices.
My 18-year-old grandfather watched as his mother and father, the proud children of European immigrants, were forced to leave the house they bought in 1925 and the home where they weathered the Great Depression while raising six young children. But the house could be replaced.
The land, on the other hand, the beautiful black dirt that the family had poured every possible cent and bead of sweat into, could not be replaced.
Residents flooded the Wisconsin state government's offices, and even President Roosevelt's office, with letters and petitions pleading that the plant be built on less valuable soil further north so that the Sumpter community could be preserved.
One letter from the farmers read:
"These are our homes. We could buy other farms, but that would not make them homes. It is family life that has made these farms, homes. We and our forefathers have lived here for generations. Some of our ancestors settled on these lands almost one hundred years ago, to carve their futures out of what was then an uncultivated prairie and wilderness. These ancestors and some of our present families are buried in the little cemeteries, in the area. It is our own little bit of America, loved by the living, and sacred to the dead."
My great-grandfather and other farmers, including the town chairman, Garth Premo, took the U.S. government to court in an attempt to keep their land. But, the government had spoken.
"Couldn't do much to stop it, I guess," my grandfather says with raised eyebrows and a cocked head in a matter-of-fact tone.
Premo was informed his two sons would soon find themselves enlisted if he didn't sign his land away.
"Oh yeah, powder plant, that was the government talking to you," Elaine says, with the same expression on her face as her brother. "I don't know what they thought," she says, her voice trailing off. "They just thought they would go in there and move them out … if you want to call it that."
My great-grandfather didn't receive more than the initial one-dollar payment until a year later.
Spring of 1942 brought thousands of workers from all over the country to the Baraboo area. The prairie soon filled with roads, production buildings, housing for 12,000 workers and their families, a school, a child care facility, a hospital, cafeterias, a 15-mile fence around the plant and a railroad track.
One of those workers was Carl Dineen, a construction worker from Amherst Junction who came to Baraboo with his wife, Hertha, to work in the bustling newfound city. Dineen became a supervisor at the plant, overseeing a largely female workforce that packed propellant and gunpowder into rockets and bombs. Their two daughters, Bonnie and Marjorie, came to Baraboo a year later after Marjorie finished high school at the age of 16.
Six years later, after Marjorie attended UW-Madison and had started working as a secretary with Elaine (Litscher) Pierce at the agriculture office in Baraboo, Elaine brought Marjorie to a local dance hall on a blind date.
It was 1949 and the dance hall was roaring with music, laughter and the stomping of 20-somethings jitterbugging. Marjorie's cheeks blushed against her brown eyes and curled coal black hair as a tall stranger with short, dark curly hair, walked toward her and Elaine. It was Elaine's older brother and Marjorie's future husband.
They were married two years later in 1951, moved to my grandfather's newly bought farm and had their first child, my mother, Kristine, two years later.
As a child at family holidays, I remember my grandfather's booming voice cutting across the chaotic table chatter as he looked straight ahead.
"Now, I just want you all to know how thankful we should all be for Margie." He would glance over to my grandmother who was bustling around the kitchen like the good 1950s wife she was. She would give a curt, pursed smile and an embarrassed shake of her head. "And, I thank God for that damned potato famine. None of you would be here without that famine," he said.
He was always thankful for the Irish Potato Famine that forced my grandmother's great-grandparents, starving and destitute, across the Atlantic to America; but never the powder plant that brought my grandmother's father to Baraboo.
I never even heard him speak about the plant until I asked a few months ago.
"It's like talking about war," my mother told me as we drove down Highway 12 through the orange and gold Baraboo Hills on a warm autumn day, bracing me for a conversation with her father she never had.
I didn't know what she meant. But, after looking into my grandfather's cloudy blue eyes as he relived an event that ripped his family from their home, and the unbearable stress and physical demands that drove his mother to her early death a year later at age 46, I'm beginning to understand.
Now, he stares forward, silent, out the window of his nursing home room where he sits in a wheelchair because those long legs that strained through farm work all day for 50 years can no longer support his 6-foot-1-inch frame.
He stares forward as he recounts the night he met my grandmother on a blind date at a dance hall — the blue dress she was wearing and the pinned back black curls that framed her brown eyes. My mother and I look away, clenching our jaws and wiping the tears from our faces, trying not to cry. We are, after all, the daughters of Midwestern farmers. Our fathers taught us to overcome, not break down.
My grandmother lives in a memory care assisted living center across town because of the Alzheimer's that took her from us.
In some cruel twist of fate, my grandfather can remember that cold February day over 70 years ago, but needs two nurses to help him to the bathroom. While my grandmother can walk around her courtyard for hours, she can't remember the name of the man she's been married to for 62 years.
"She was pretty and smart," he says about my grandmother, slowly shaking his head up and down and smiling, remembering a woman who no longer remembers him.
Together they make one person – one complete, functioning unit. Body and mind. But that's how it always was. My grandfather was a charming, unwavering patriarch who came in from milking cows at night exhausted and hungry, while my grandmother was a kind and dutiful wife who was always ready with supper on the table – usually too busy waiting on her husband and children to actually sit down. They needed each other to survive.
But now, my grandparents live on opposite sides of the town where they met, fell in love and raised a family.
My mother, grandmother, grandfather and I sit in the entryway of my grandmother's assisted living center. Her wide-open brown eyes slowly gaze around at the overstuffed chairs and fireplace, as if seeing for the first time a place she's sat a hundred times. My grandfather sits next to her, holding her hand, searching those brown eyes for the smallest spark of recognition, silently willing her to come back to him. She never does.
She can't remember his name or how he's connected to her, but immediately, her delicate, wrinkled hand reaches to brush away the crumbs on his shirt as her head shakes and her mouth lets out a small, disgusted sigh. Her hand then carefully smoothes his ruffled, white hair. Her body continues this 62-year-old ritual her mind is unable to remember.
"Oh my. And now, how are you doing?" she asks me, slowly chuckling as those patient brown eyes wait for my reply.
Never mind she doesn't know who I am, and I can see the masked worry on her face when she can't place my face.
Perfect social etiquette in the face of Alzheimer's; her mother would be so proud.
Her unconscious fussing demonstrates the innate sense of family within the Litschers, whether my grandmother consciously remembers or not. Now, preening my grandfather is her only connection to the life she once lived.
This family was built on the values of hard work and love. It's hard to imagine I might not be here without the powder plant that brought both defeat and victory, without the sacrifice and perseverance of my grandfather and great-grandfather.
Now, the defiled prairie sits. The U.S. Army has spent over $200 million since the 1980s in an attempt to purge the once beautiful, black dirt of contaminants, and the federal government divided the land among the Department of Natural Resources and other government programs.
A memorial sits on the silent prairie, just outside the barbed wire topped fence.
The memorial reads: "A Tribute to the families who gave up their land and homes for the defense of their Country in World War II to the Badger Ordnance Works."
A map outlines the families' homesteads of Sumpter who were forced to give their land for their country. Near the top lies a rectangle marked "98."
Now, all that's left of the black dirt my grandfather and great-grandfather worked with horse-drawn plows and the farmhouse where the family gathered around that big oak kitchen table on Sunday nights is a 2-inch rectangle on a slab of rock, and the story – the story of love, happiness, tragedy and family – that lives on in my grandfather's memory, and now in me.