Dan retells his three-year-old story with a robotic frankness and honesty derived from telling it countless times before. If he's angry, embarrassed or bitter, his tone doesn't betray him. It's as if he has the tale memorized, and, after relating it to a judge, psychologist and parole officer, and a year of court-mandated classes, he probably does.
"We messed around, and we did some stuff," says Dan, who asked that his full name not be used to protect his privacy. "The next morning she told her parents I raped her."
Dan was a high school senior in Milwaukee enjoying a summer night out drinking with friends. The guys met up with some girls from school and ended up at a local park. There Dan and a 15-year-old classmate, a freshman at the time, became intimate.
At court-ordered classes he met other fourth-degree sexual assault convicts looking to finish a year of rehabilitation classes and get on with their lives. But he also met sexual assault felons⎯registered sex offenders⎯whose punishment includes disclosing their identity, crime and whereabouts to the public.
A great deal of public government records are difficult to access, requiring a trip to a courthouse or a number of years to pass before they become available. But a sex offender's personal information is available using the latest digital technology.
GPS may be most often recognized as the automobile positioning technology that made glove box road atlases and MapQuest printouts obsolete, but Android, Blackberry, and iPhone users now have another use for GPS: tracking registered sex offenders.
Applications like Offender Locator, which was once the best selling iPhone utility application, tap into state registries and plot nearby offenders on a map using a user's GPS location. Tapping a pin on the map downloads an offender's mug shot, crime, address and physical description.
iPhone users can download Offender Locator Lite for free, but it limits mapping to ten nearby offenders. The full version of the application requires a $1.99 payment to publisher ThinAir Wireless. Its Blackberry equivalent costs $2.99. Another iPhone application released by LogStat Software LLC called Sex Offenders Search also costs $1.99 and provides the same features.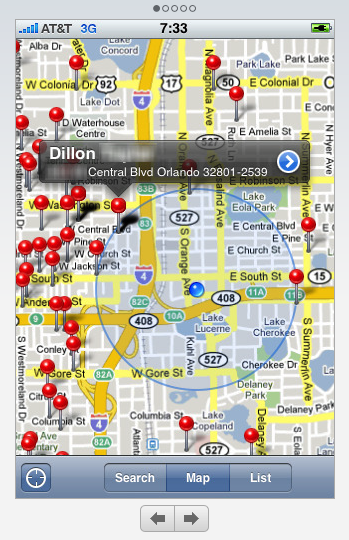 Although the publishers promote their applications as peace-of-mind solutions, some sex offender advocates like outspoken former registrant Derek Logue are disgusted by what he calls a campaign of fear-mongering.
"It's only a symptom of a larger pandemic of fear and paranoia in this country and people exploit it to make money off of it," Logue says. "As long as the fear is out there and the media continues to exploit it, there are gonna be people that are gonna make money off of that."
Logue might be considered a celebrity in the world of sex offender issues. He runs several sex offender advocacy websites including oncefallen.com and trolls online forums under the handles "fallenone" and "F1."
Logue was convicted of first-degree sexual assault for "sexual contact" with an 11-year-old girl in Alabama in 2001. He is especially disturbed that companies (which he collectively refers to as "Big Registry" in a nod to "Big Oil" and "Big Tobacco") profit from the sale of offender information and the sales techniques they use.
"I'm particularly disgusted with the Offender Locator," Logue says. "Not just because of the app in and of itself but because of the way it's advertised. … They have this ominous little catchphrase that says 'they know where you and your family live, now it's time to turn the tables.'"