A transgendered woman explores and inspires through film
By: Aimee Katz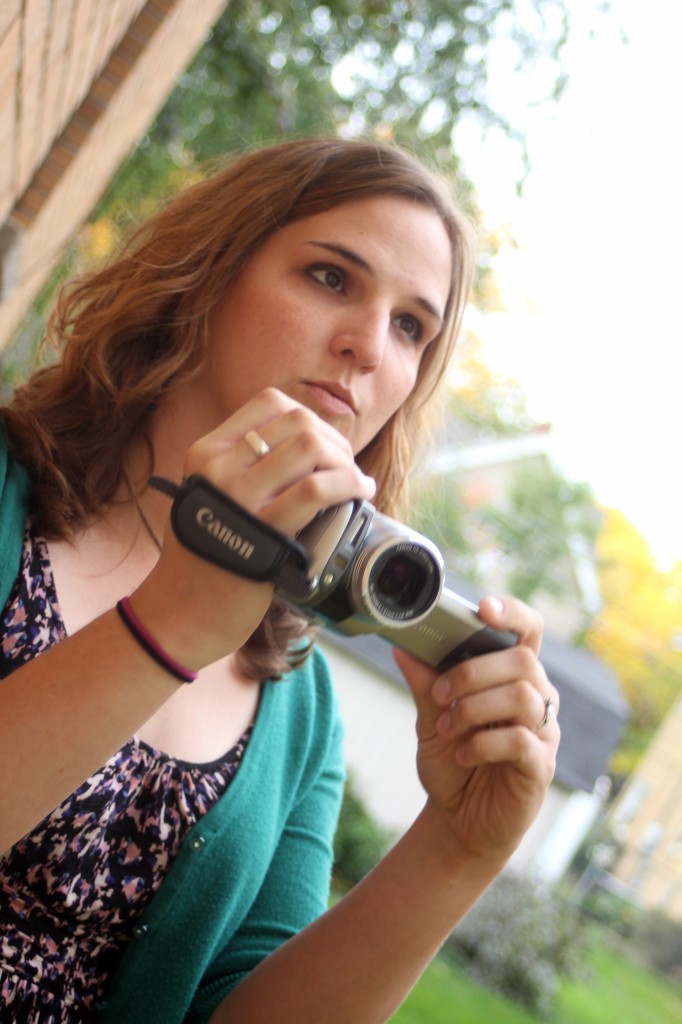 The large silver scissors move purposefully through black suit fabric as a yellow measuring tape lies nearby. As each frame of the film moves past and the suit is transformed to a dress, filmmaker Ashley Altadonna measures not just the proportions of a new outfit, but also the dimensions of a new life.
"My basic personality hasn't changed. But the things that I'm into and how I view the world have a more feminine perspective."
Though the film, "Whatever Suits You," lasts just seven minutes, it reflects more than a decade of struggle. In depicting the metamorphosis of clothing, from suit to dress, Altadonna is revealing her own transition from male to female.
Struggling with Gender
As one of just 700,000 people in the United States who identify as transgendered, a term for those whose gender identity and expression differ from the sex they were assigned at birth, Altadonna has grappled with her identity since her early teens. Currently seeking funding for both a new film and gender reassignment surgery, she is using the art of film to illuminate the struggles of a misunderstood and marginalized minority.
Today, Altadonna is a tall, slender woman. Her light brown hair rests lightly on her shoulders as she clutches a colorful purse with a diamond ring on her finger. She has a soft voice, and looking at her deep-set eyes, she begins to tell her story: the journey from Kyle to the compelling role model Ashley, a woman inspiring confidence in those around her.
Altadonna started secretly cross-dressing at age 13. "I can't even explain what it was that made me want to do it," she says. "I don't think it occurred to me that oh, I'm trans. It's just something I did."
Not being able to dress a certain way inhibited Altadonna's ability to feel a certain way. She wanted to look the way she felt. Since then, Altadonna has overcome the shame she so deeply felt in the past. She has grown to show strength and raise awareness of the transgendered community through her determination, resourcefulness and perseverance.
"A lot of the time people hear the term LGBT, and they just think it means lesbian or gay, and the transgender kind of gets left off," Altadonna says. "I hear people confuse it a lot: who you are versus who you are attracted to."
Discovering Film
After coming out as transgendered to a girlfriend at age 18, Altadonna wasn't entirely sure how to cope with her changing identity. Originally from Texas, she moved north to Chicago to attend art school and slowly came out to more friends. Altadonna discovered film by accident, after not being able to enroll in the sound engineering classes she originally wanted to pursue. She fell in love with film as she explored the themes of avant-garde filmmakers Stan Brakhage and Jennifer Reeves.
"Brakhage was this filmmaker in the 1950s and 60s, and this one film we watched was him taping little pieces of grass, moth wings and insect parts to filmstrip and making a movie that way," she explains. "It blew my mind." However, the film that really moved her was "Chronic," by Jennifer Reeves. Dealing with sexual abuse and homosexuality, the film explored psychology and how mental health affects young people. Altadonna decided to make a move farther north to Milwaukee, where she had a strong group of friends and began to get a firm handle on the feelings surrounding her identity. There, in Wisconsin's Brew City, her expression through film truly began.
Altadonna struggled in film school to find a clear vision of what she wanted to explore through her art. "I actually started dealing with coming out to my friends when I got to Milwaukee," she says. Having film as a medium helped, yet she still sought out counseling to guide her.
Her initial involvement with the transgendered community was through a support group. Though she did hear the stories of others, she found few connections. Being the youngest person there, it felt difficult to relate to others who had to care for children and spouses. Counseling was expensive, and Altadonna had to save money to see a specialist when she could afford it.
"When I first met with a therapist individually, she told me that gender was like a train, and you could get on and get off whenever you wanted to," Altadonna says. "I didn't see her again until four years later. All these things were building up, and I started to delve into transition more."
The decision to alter one's body is an individual choice for every transgendered person, but Altadonna strives to be a woman inside and out.  "My decision to have gender reassignment surgery is a personal decision," she says. "I need to feel better about myself and my body."