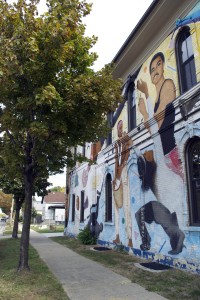 By: Emily Connor
The Mask of Benin:
Known as the Mask of Benin, this symbol is one of a pair of Nigerian ivory masks dating back to the sixteenth century. A king from the court of Benin, a thriving civilization, immortalized this female mask to honor his mother, Idia. Today, pendants with the symbol are worn at ceremonies for spiritual renewal and purification to honor the legacy of the Benin dynasty.
Paint Palette:
Hernandez wanted to emphasize the influence of the Inner City Arts Council in the community. The council provided art lessons in various disciplines to children and adults in and around Bronzeville.
Color Across the Sky:
Murals are meant to brighten city walls and inspire community members. Hernandez believes murals should "bring color to cities that are mostly steel and concrete," as his bursts of deep red, sky blue and bright yellow do.
Making Music:
The drummer in the mural here holds a lookalike of the Akan Drum, an instrument from Ghana, West Africa. It traveled to the Virginia Colony on a slave ship in the 1700s. Drumming became an instrumental part of African-American music, helping form cultural identity and community.
A Passionate Painter:
Hernandez designed the mural to show various African-American art forms from the past and present. But, an Italian artist told Hernandez that, as an artist, he should be an image in the mural–he looks out to the left with a dripping paintbrush in hand.
Chipping Paint:
The average lifespan of a mural is 10 years. If the mural is not sealed every four years, UV light breaks down the acrylic paint over time. Although many of Hernandez's murals have lasted longer than average because of high-quality paints, every outdoor mural must weather the elements.
Related Posts: