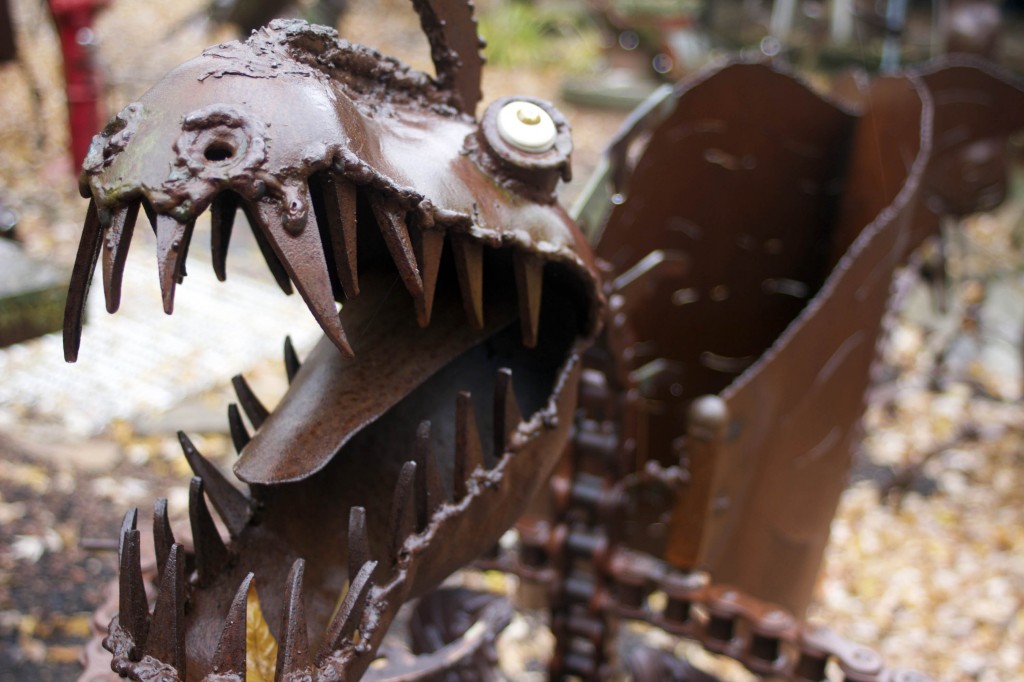 A Marshfield artist mines marshes to bring creatures to life
By: Zachary Arostegui
Down a winding road, in a city at the heart of Wisconsin, a marsh overflows with creatures from centuries long gone. On this land, behemoths hatch from scrap metals and tiny critters of all shapes and sizes are born from discarded parts. A dragon with helicopter blade wings soars high above, while smiling piranhas show off their rusted teeth. This place is Jurustic Park.
Jurustic Park, in Marshfield, Wis., is a living, ever-changing creation of Clyde Wynia— sculptor, self-professed "amateur paleontologist" and, perhaps most importantly, storyteller. He has honed his craft over 19 years, turning his Marshfield home into a public sculpture garden and infusing life into his work. Extracting metal from the McMillan Marsh, Wynia transforms ordinary trash into something remarkable.
Walking Through Jurustic Park
When Wynia pulls these creatures out of the marsh, they find more than just a physical form. Each also takes on its own distinct personality. Take for example, Fast Eddy Biscotti, a legendary Norwegian gunfighter who, to date, has never lost a duel. An arrow protrudes from Fast Eddy's chest where a woman shot him while he was distracted by her cleavage. He still stands in the park, guns drawn, his gaze frozen upon her.
Fast Eddy is joined by Einstein, the wise hound dog. Einstein is never wrong and can answer any question you give him correctly, assuming you ask it in the right way. Simply ask him a yes or no question, and then push his head in the right direction.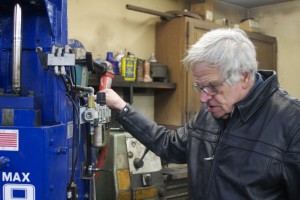 As Wynia paces through his park, a path he's traced countless times, he tells the fanciful stories of each one of his friends. One by one he introduces all of them, Oxide the watchdog, Ivan the womanizer, Abe Lawbender, the crooked lawyer from Shysterville, of the firm of Lawbender, Cheetum, Pettifogger and Skumb.
And one by one, the scrap metal sculptures come to life. Two dancers, mid-spin, hold each other tight as the town board meeting of local frogs clamors for attention. The 4,000-pound racing turtle calls out his victory song, a low sustained ring, when Wynia sounds the bell that is his shell, while an "Octanoggin's" seven heads and a cranium bob slowly, gently in the breeze upon necks made of springs.
Dry, subtle humor resonates through everything Wynia creates. A watch dragon that cannot move, a rock bass with a stone lodged firmly in its center, a gardening angel and plants that require no watering. However, one look at the racing dog and the way his metallic ears seem to flap in the wind, while his glass eyes exude the wild thrill of the race, is enough to convince anyone of Wynia's serious artistic ability and his unique skill of bestowing life into the lifeless.
Unexpected Plans
Jurustic Park was never something planned. Much like Wynia's creations, the park came together from disparate elements and began forming something larger. It started when Clyde crafted a metal bird and granted it flight. "I made that bird that hangs in the tree, and that was the first one…then it just exploded so fast. So, five years later, I decided to retire and play the rest of my life."
­Although it may be play to Wynia, he also puts many hours of work into maintaining the park. "We're open in the summertime, 10 to 4:30, eight days a week." He now creates and sells hundreds of pieces a year and donates sculptures to parks, schools and charity fundraisers, all while creating additional artwork to continue expanding the park. Wynia's statues have been known to raise as much as $6,000 for local charitable causes.
This leads him to juggle several projects simultaneously, to the point where work time on any individual piece blurs together. "I got people coming and going all day long. Even in the wintertime you got cars stopping by. So how [are] you going to keep track of time if it's stop-and-go all the time? Besides, I have a short attention span."