Lee Ann Dzelzkalns heals through sound
By: Jourdan Miller
She's not a shrink. She won't lecture you on life decisions or relationship mistakes. She won't have you sit on her couch and unfold stories of regret, loss or unhappiness. But she will amaze you. She'll ask you to forgive and let go. She'll ask you to welcome the nausea, the tears and unaltered joy that ensue. She'll ask you to feel the vibrations and to let the music heal you. Her name is Lee Ann Dzelzkalns, a Milwaukee-based vibrational healer who uses instruments, meditation and her voice to help people remedy their lives.
Dzelzkalns' work is an escape from big pharma. Her methodology is based on the body's ability to heal itself through meditation and the power of music. Science shows that neurologically our minds resonate with vibrations of sound—her work is rooted in these healing principals. She helps people go on to lead more fulfilled lives. There's a global thirst for a more balanced and centered life, and people are beginning to open their minds to alternative methods of healing.
When you first meet Dzelzkalns you probably already know a little about her work, so seeing her for the first time is like dipping a toe in a newly-thawed lake on a warm spring day—you're not quite sure what to expect. At about 5 feet 7 inches tall with soft red hair, she looks you in the eye, and you immediately get the feeling she can see you naked. Not in the sense you missed a button, but in the sense she can really see you, all of you.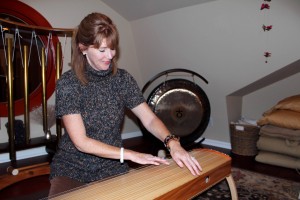 "When I first met her, I was struck by her warmth and her amazing presence. I felt very peaceful with her," describes Sarah Bartosch, a student of Dzelzkalns' since 2004.
Dzelzkalns is soft spoken, but with a sense of conviction, she outlines the history of the giant German gongs hanging from her living room ceiling. Climb the stairs to her meditation room, and you're transported away from Milwaukee and into some place serene, complete with natural light filtering in from the ceiling.
Music is Medicine
The fascinating part of her work is in the instruments she uses, which are on display in the meditation room. Large and small hand-pounded Tibetan singing bowls made of seven metals, copper, brass and nickel chimes, bells and a large wooden monochord occupy the space.
Her impressive collection of instruments leads one to call her a musician, yet she's quick to correct.
"I'm not a musician. I am an esoteric musician. The music came to me," Dzelzkalns says. "What I do is mind, body and spirit integration." "Eso," means "hidden," Dzelzkalns explains.
The vibration of sound affects our energetic system, and we don't always recognize the power behind that which assists us to heal a physical ailment, emotional trauma, or a mental, rigid belief. Yet Dzelzkalns says most often we just feel "good" after listening to an opera or experiencing a vibrational sound bath.
Dzelzklans' business, LA Consulting, established in the early 1990s, is a fusion of sound and meditation healing grounded in principals of holistic learning, spiritual awakening and the power of nature. Her ancient instruments help individuals release pain and suffering from their souls.
"People have that fear of losing control, going inside themselves and breaking down the inner walls," Dzelzkalns says when asked why people are called to her. "Yet when you begin to do it, the end result is pure liberation and self-realization."
More than Meets the Eye
One could even call her a jack-of-all-trades. She doubles as an interfaith minister and until recently taught a mind/body course at UW-Milwaukee for over two decades. Her current creative projects are producing podcasts, videos and inspired writings on www.syinthesis.com, as well as leading private and group sound meditations. Her love of nature is evident throughout every facet of her life.
Her path, as Dzelzkalns calls it, is her calling to the work of facilitating the process of healing others through the vibrations of sound. Her mantra, something she repeats to her students is "notice what you notice." Then, without judgment or expectation, allow for self-clarification and the possibility of a life lesson.
A subset of her business is group sound meditations, called Lotus Heart Sound Journeys. Through the use of instruments and her voice as guidance, she leads participants through a self-discovery and healing process.
"There's nothing scary about sound healing. Just listen to your favorite music. Why do you enjoy it so much? There's something that you feel inside of you. It elicits a warm, good feeling, and that's the vibration of sound," Dzelzkalns says when asked to break down her work. "But what I do is cut to the chase—I help people accelerate on the path to healing. It's not always pretty because you will feel emotional release."