Prison arts program ends despite enriching lives
By: Heather Laing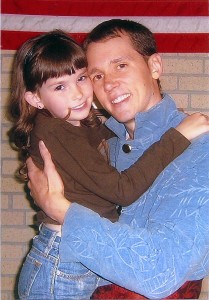 Fearful of how his 7-year-old daughter would react, inmate Nick Leair prepared for his final performance with excitement laced with a hint of nervousness. It had been months since Leair had last seen his daughter, born only three months after his incarceration. She had never seen him outside prison walls or in anything but his drabby green uniform, equalizing him with more than 1,000 other inmates in the facility.
This visit was much different. Dressed in vibrant royal garb with a blue patterned garment and crimson sash, Leair took the stage as Ferdinand in Shakespeare's The Tempest. After nine months of rigorous rehearsals, he was ready to show the public that he, too, possessed redeeming qualities of hard work and dedication. He scanned the crowd and his eyes fell upon his mother and two sisters tearing up with pride and his daughter, Ally, watching closely in the front row. Two-and-a-half hours later—a long time to sit for any child—a thunder of applause could be heard in the closely monitored visiting area. Leair took his final bow and went to reunite with Ally, eager for her reaction.
All hesitation immediately vanished as she ran forward and embraced him. "My Daddy is a prince!" she beamed with a wide grin. Leair was overcome with joy and emotion—the impression on his daughter's face forever etched in his mind.
"It was just the happiest moment that I can think of when we got done and I stepped off the stage and she just ran into my arms," he recalls. "I will carry that with me forever."
Leair first entered Racine Correctional Institution in January 2005. He transferred from Waupun Correctional Institution, where he had already spent five-and-a-half years since his initial incarceration at the age of 20. At the time of the performance, he was in his seventh year behind bars, facing a 30-year sentence on counts of armed robbery, kidnapping and false imprisonment. One of 600 inmates to be involved in the study and performance of Shakespeare between 2004 and 2008, Leair was a proud participant in The Shakespeare Prison Project.
"The Theatre of Empowerment"
The United States incarcerates more of its citizens than any other nation in the world. Ninety-five percent of these individuals will ultimately be released back into society. Prison programs such as The Shakespeare Prison Project are aimed at increasing empathy, self-discovery and conflict resolution among those facing time behind bars. The hope is that inmates will gain valuable skills that will help them weave back into the fabric of their communities once they are released.
Jonathan Shailor, associate professor of communication at UW-Parkside and founder and director of The Shakespeare Prison Project, has been facilitating "theatre of empowerment" classes in prisons and other settings for more than 15 years. His goal with the classes and The Shakespeare Prison Project was to use performance techniques to explore how people cope with conflict.
Inmates worked as a team over a nine-month period to study and rehearse all aspects of one of Shakespeare's plays. With twice-a-week rehearsals, the program provided structure, a creative outlet and a valuable support system within the prison network. It also offered inmates the chance to publicly display their hard work during three performances, two for inmate audiences and one for family and other invited guests. During the project's four-year run, Shailor, 55, led groups in performing King Lear, Othello, The Tempest and Julius Caesar.
"I think Shakespeare is fantastic in terms of teaching us about what it means to be human, exploring the full range of human emotion," says Shailor, referring to his belief that connecting with Shakespearean characters can develop a greater self-awareness, discipline and moral reasoning.
And among inmates, this seemed to ring true. Leair approached his role as Ferdinand, prince of Naples, with a hunger to learn and a desire to succeed.
"I completely just immersed myself in my character, and I dedicated my soul to that performance the three times that we did it and every time that we rehearsed. It was just who I was," Leair says, passion resonating in his voice.
After experiencing a sincere connection to his character, Leair confidently felt he could have taken on any role and been able to relate. During rehearsals Leair and other participants would write journal entries juxtaposing their experiences with the play and real life scenarios, detailing their own crimes and the resulting impact on their families and victims. Through these introspective writing assignments and participation in group discussions, Leair acquired essential skills, universally valuable both behind and beyond bars.
He learned perspective. He learned to consider consequences. He learned to consider how all parties felt in relationships and situations. And most importantly, he learned how this related to the outside world.
"With my daughter or with my neighbor or with my victims, just to be able to really dig down deep and try to get a better understanding of myself and of them and being able to make that connection," Leair says.