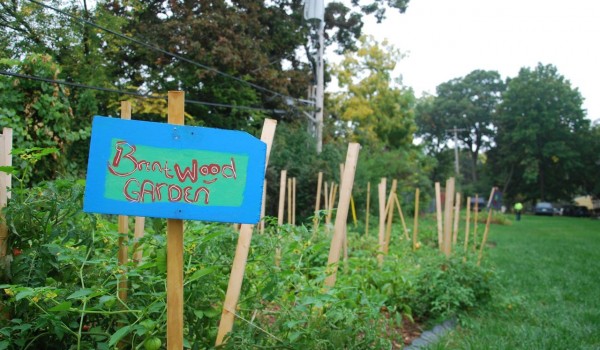 A few blocks from where a 17-year-old boy was shot to death nearly four years ago lies a beautiful organic garden, filled with seasonal vegetables, fruit trees and native flowers.
The garden is part of a violence prevention initiative by Public Health – Madison & Dane County (PHMDC) to improve Madison's southwest side, where Madison Memorial High School student Karamee Collins Jr. was shot in the back and killed on June 9, 2009.
The Meadowood neighborhood sits along Raymond Road on Madison's southwest side. Since the early 2000s, this area has faced dramatic racial and generational tensions, social inequality, poverty and violence. In less than a decade, the percentage of low-income students jumped from 14 to 57 percent at Orchard Ridge Elementary, the neighborhood's primary school. Crime rates were climbing steadily, including an alarming increase in gunplay and shootings.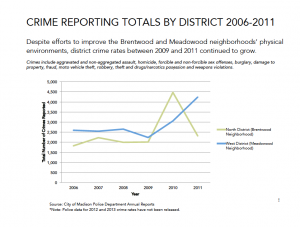 Neuschel and LeClair are members of the Place Matters Team, a team focused on addressing the social, economic and environmental determinants of health. This population level work is new to the local health department. Neuschel and LeClair's work in southwest Madison focuses on community capacity building. Their overall goal is to build a deeper connection to the community through improving neighborhoods and neighborly relations, improving employment opportunities, and building community representation and cross-generational interaction.
So when this violent crime occurred in Meadowood in 2009, Neuschel and LeClair sprang into action.
"When this murder occurred, we realized pretty quickly that we needed to shift focus," Neuschel says. "We started looking at the evidence based on what makes communities safe from a public health standpoint."
Focused on violence prevention, they researched evidenced-based strategies and what other public health agencies were doing around the nation, conducted interviews with area residents and surveyed perceptions of safety and trust. They pored over police data and began working with the police to understand how perceptions and reality of neighborhood safety were matching up.
"One of the things that we found over and over again was that kids were seen as the problem. Through the qualitative interviews, there was absolutely concern for the kids but there was as much of a concern about the kids, and their behavior and their disrespect," Neuschel says. "But if you looked around at the opportunities that they had for meaningful engagement, their experiences in the school district, not to mention the living environment that they were in, it didn't lead to many opportunities for positive social behavior."
In response, the nurses created the PHMDC Violence Prevention Model that outlined core components for safe neighborhoods and specific recommendations and opportunities for Madison's southwest side. One project that was recommended in the model that hit on many of the core components (social capital, neighborhood beatification, civic empowerment and seeing youth as an asset) was the Russett Road Front Yard Gardens – a collaboration between PHMDC, the Madison Area Permaculture Guild, Edgewood College, Joining Forces for Families, Youth Services of Southern Wisconsin (YSOSW), Good Shepherd Food Pantry and, of course, the local community.
In late April 2010, the community successfully planted gardens in eight front yards on Russett Road, drawing over 100 volunteers. The gardens were designed by the Madison Area Permaculture Guild and incorporate two large rain gardens, seven vegetable gardens and multiple flowerbeds.
At the end of the 2012 growing season, YSOSW hired Ray McKnight, a resident of the Meadowood community, to coordinate the gardens. McKnight is an experienced gardener, and is responsible for supervising 10 Meadowood teens, ages 14 and 15, to work in the gardens.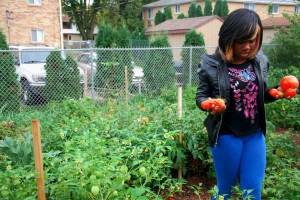 Once community gardens are planted, roots of security and community health begin to flourish. "I've had conversations with people who have had cookouts with their neighbors using the produce from the gardens. Like going and picking green tomatoes and frying up tomatoes and knocking on doors. All eating together," Neuschel says.
The Russett Road Front Yard Gardens were so successful that in early 2012, the Public Health Department and its partners decided to work together to create a model that could be sustainable and replicated throughout Dane County. The coalition, now called Gardens for Empowerment (G4E), comprises PHMDC, YSOSW, the Community Action Coalition (CAC), Dane County, UW-Extension and the Edgewood College Sustainability Leadership Program.
The coalition provides employment for youth referred by the community, schools and law enforcement. The coalition aims to use beautiful flower and food-production gardens to build social capital and empower residents to advance community goals and quality of life. This is done with a comprehensive approach, in a participatory fashion, using the principles of community, economics and youth leadership development and guided by the principles of equity and inclusion.
Abdul Thoronka is the program coordinator for the Brentwood G4E gardens on Madison's north side. He works directly with the kids in the neighborhood to teach them how to garden and how to set goals. Thoronka says there are ups and downs in the community, but he feels hopeful for the future of the project. "There are times when they do their best and times when you have to stand your ground. We take it step by step," Thoronka says. "Composting, mulching, gardening … the community knows there's something happening."
The G4E coalition members apply collectively for funding and support. The major funding for 2013 comes from a Capital Area Regional Planning Commission grant, a Dane County Restorative Justice grant and smaller grants from organizations such as the Willy Street Co-op, Kiwanis West and the Capital Times Kids Fund.
In addition, UW-Madison offers a community and school gardens in Southwest Madison course for students. This 15-student course combines classroom instruction with hands-on community gardening.
Julie Silverman, a student in the course, describes a recent class project. "We gave the kids digital cameras and GPS units, and they did a walking tour of their neighborhood, highlighting areas they like and areas that can use improvement," Silverman says. "We put their photos on a projection screen, and they talked about their feelings and their perceptions of safety last Tuesday. The kids loved it. At first they were a little shy, but by the end of the discussion they all wanted to talk."
After analyzing the student's recommendations, Silverman says the next step is to create a list of recommendations to present for feedback at another community event. "Our plan is to make recommendations to stakeholders, policy makers and state officials," Silverman says. "We hope to get funding to implement some of these recommendations, like building a community center."
The G4E coalition is working to collect evaluation data. Anecdotally, they hear that the neighborhoods feel differently than they did in the past. "Part of what's being uncovered, and it's not a surprise but it's very reassuring, is that the kids are starting to see themselves as assets," Neuschel says. "As the neighborhood is shifting their view of them, and seeing them as doing good work, and feeling positive about them, the kids are internalizing that. And that is huge. That is life-changing."
Lavonte Hatchett, a 15-year-old student at Madison East High School, works in the Brentwood neighborhood as a member of G4E's Green Team. Thanks to Thoronka's guidance, Hatchett learned how to accomplish his goals. "It's a great experience. It taught me some new things," Hatchett says. "It taught me how to garden. I didn't know how to garden. So that was pretty cool."
Another Brentwood Green Team member, Larry Simms, 14, also attends Madison East High School. He enjoys helping in the Brentwood community, particularly because he can take what he learns and share it with his family. He takes home collard greens for his mother and grabs banana peppers to spice up his sandwiches.
Terri Bleck became a volunteer coordinator of the G4E program in May 2013 and works directly with the youth and their supervisors within the gardens. Bleck finds the most rewarding part of her job is the opportunity to see people become empowered and passionate about their community and their health.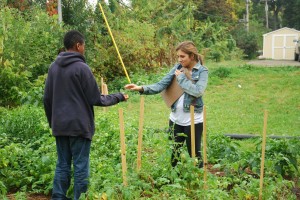 Bleck describes how, for some of the youth, it's their first experience with fresh produce: "And this one kid Jeremiah in Brentwood, he finally tried like a pepper or a tomato or something and he was like 'These are pretty good!'" she says. "Apparently, he would take them to his school and at lunch he brought them out and set them on the table and start telling his friends, 'I grew these and they're really tasty and you should try them!' He's just trying to sell the fresh produce and tell the story of the gardens, so I thought that was really neat."
Bleck hopes that in the future, G4E will continue to expand. She says the coalition hopes to establish a four-year program so that students can be involved throughout their high school years. Eventually, Bleck hopes, the program will help the students go on to college as well.
Check out an interactive timeline about Garden for Empowerment's history.