People know Mark Johnson as an Olympic gold medalist, NHL player and the head coach of the UW-Madison women's hockey team. They know him for coaching 16 All-Americans, winning four national championships and being a UW-Madison career goal-leader with 125 goals in 125 games. As I tried to garner the facts and figures in my mind, I opened his office door, ready with my first question. I caught a glimpse of the 5-foot-9-inch hockey legend, and panic rushed over me. While trying to regain some form of composure, my frantic mind was interrupted.
"Hi! What's your name?"
For the next hour, I wasn't leading an interview; it was a conversation. I had come to ask Johnson about his legacy, and he wanted to know about mine. I soon found out that's just who Johnson is. He's more than a sports icon. Behind the trophies, titles and Olympic gold medal is a run-of-the-mill guy with an extraordinary disposition. A Wisconsin Badger to the core, Johnson has dedicated the past 20 years of his life to coaching the next generation of leaders, and helping them create their own legacy where he began his.
…
It's 1977. The sound of the rowing team awakens Johnson, making sure he makes it to his 7:45 a.m. class on time. It's a normal day for the Badger freshman. Post class, he lugs his smelly hockey bag into the back of a car, making his way to the Dane County Memorial Coliseum for practice. After spending an hour and half being coached by his father, "Badger Bob," Johnson rushes back to his dorm. It's time for the daily race: will he make it before the cafeteria closes or be left with the deep fried food that no one else wants?
Johnson grimaces at the memory. He admits he'd sometimes break his daily routine to sneak back to his parents' house for a home-cooked meal.
1977 was a great year for Johnson and for the Badgers. Wisconsin became the first team to win the NCAA Championship, the Western Collegiate Hockey Association title and the Big Ten Championship in the same year. Johnson's 38 goals and 42 assists contributed to the team's success and made him the first Badger to win WCHA Freshman of the Year.
"I mean, those moments are special," Johnson says, reflecting on his return to Madison after beating the University of Michigan Wolverines in overtime to snag UW-Madison a second National Championship. "And if you're lucky enough to have one [of those moments], then you feel fortunate."
Johnson has had many of these "fortunate moments," and he insists whether you're playing on the winning team or coaching it, they never get old.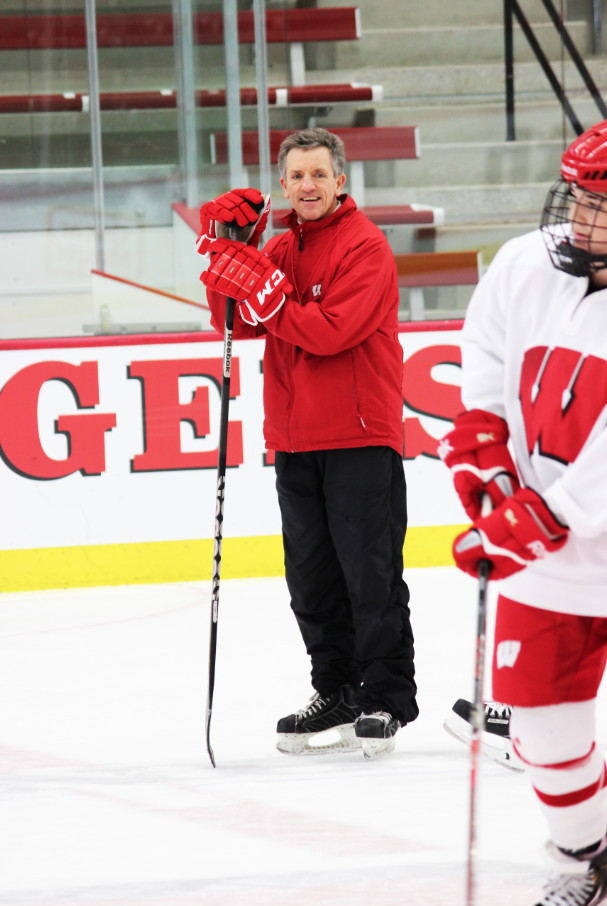 "You always see those players who are going through it for the first time and you know the excitement and the smile. I mean, those are memories they'll have … forever."
Under Johnson, the UW-Madison women's hockey team has won four national championships. Senior and forward Madison Packer agrees that winning the 2010 National Championship is something that will stick with her forever. Yet one of her favorite memories as a Badger and of Johnson came shortly after their 4-1 win over Boston University.
"Myself and Brittany Ammerman water bucketed Coach Johnson after we won and the look he gave us when we poured the water on him … if looks could kill," Packer says, smiling and shaking her head. "And then he had to wear that suit until he could change when we got on the plane. It was awesome."
Packer remembers the first time she sat down and had a conversation with Johnson while playing for him on the U.S. team. She was taken aback by his humility: "He has so many things he could be cocky about, but he's just so not. He is so down to earth [and] funny … he's just a normal person who has done all these super accomplished things."
Johnson's daughter Mikayla Johnson, a sophomore on the UW-Madison's women's hockey team, says her father rarely talked about his hockey past as she grew up. While it forced her to seek information on her own, Mikayla Johnson admits she loves that "he doesn't share too much about his past experiences" and just "wants [her] to do what [she] loves, and that happens to be hockey."
I experienced Johnson's humility firsthand when I couldn't help but ask about the 1980 Olympics. He modestly and graciously satisfied my curiosity, saying it's one of those stories that doesn't have an ending yet. "There's going to be another chapter," Johnson says. Although pictures from that historic game adorn the walls of his office, he is quick to redirect my attention to another gold medalist that year, someone he clearly thought was more deserving of my attention: Eric Heiden, another Madison native who set four Olympic and one world record in speed skating in Lake Placid, N.Y. that same year.
"We used to play hockey together," Johnson says. "You can look this up on your Internet. He went to [Madison] West High School, which is about four blocks up from the football stadium. He won five gold medals in 1980, in every event. So he won the short distances, he won the long distances, he won them all," Johnson says, pausing at the perfect moments for effect. "So there were six gold medals from the 1980 Olympics; Eric won five and we won the other one … The fascinating thing is it was outside … all the new venues have [the speed skating oval] inside. So he had to do it against the elements …  it was snowing outside."
Within minutes of talking to Johnson, I began to understand why people like Packer want to play for him. Meeting someone who attributes every success he's had as a player or as a coach to his team is truly unique. Packer says having the privilege to learn from someone who she's never heard anyone say a negative thing about is life changing.
"He has definitely taught me a lot about just being a good person," Packer says. "He just puts everything he has into his players … [and] is far less concerned with getting recognition for what he's done, and more concerned about how [he can] help [a] person get better at what they're doing … no matter how much it takes out of him."
Yet Mikayla Johnson says her father is just as funny as he is humble: "… We're [going over game film] and he walks in hat backwards, pants pulled up to his belly button, laughing this weird chuckle, like kind of dancing … which instantly breaks that ice … he's serious when he needs to be, but also knows when to have fun."
Like Packer, Mikayla Johnson's decision to play for her father was simple. It had always been a dream to play for UW-Madison, and once her father acquired the head-coaching job, her heart was set on being a Badger. "My dad also played for his dad, so when I was younger I heard a lot about that and he kind of told me before I decided [to play at Wisconsin] what it was going to be like … and I was 100 percent for it. And it's been great ever since."
Johnson's coaching career began in 1994 when he returned to UW-Madison to finish his degree in kinesiology. At 34, Johnson was a different kind of student than he was at 18.
"You actually study and get things done on time and it gave [my wife Leslie and me] an opportunity to figure out what the next step was going to be," Johnson says. "Was I going to get a job in whatever field or was I going to go into coaching, and we decided to give coaching a try and see where that was going to lead."
Johnson began student teaching at La Follette High School before becoming the assistant boys' coach at his alma mater, Madison Memorial High School; and, then coaching around the Madison area until becoming the UW-Madison men's hockey assistant coach in 1996. Johnson made the switch to women's hockey in 2002 and says it has been an extremely rewarding experience.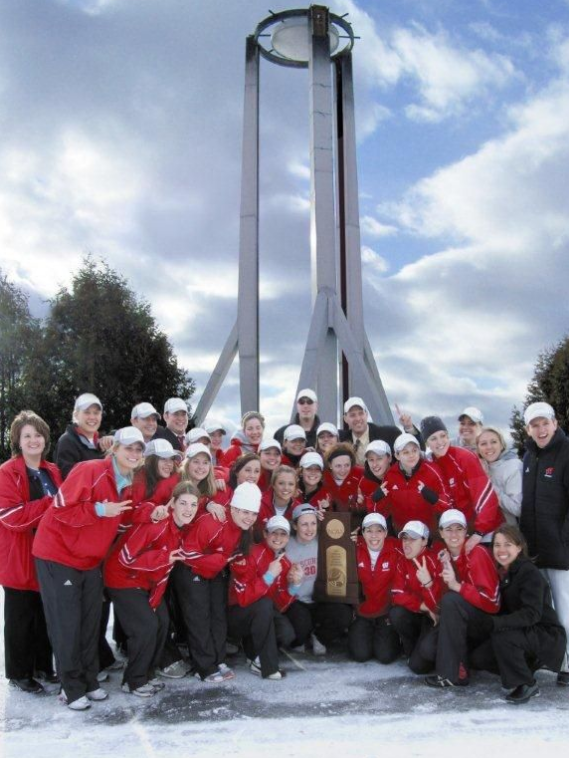 As I sit across from Johnson, he's unable to control his smile while describing UW-Madison's 2007 National Championship win in Lake Placid, N.Y., one of his favorite career memories as a coach. "As we were leaving the [Herb Brooks' Arena in Lake Placid, N.Y.] to go get to our plane to come home, we took the buses out into this field, and it was snowing, but I wanted to get a picture with this group of players with our championship trophy from the NCAA and the [1980] Olympic torch. So we got it all lined up and right then the clouds just kind of separated a little bit and the sun came out and we took this picture. That to me was pretty cool, because 20 plus years earlier I was getting to experience [this] as a player and now I was giving an experience to our players in the same spot, same rink, same everything … that was pretty memorable."
Since becoming head coach, Johnson has not only reshaped UW-Madison's women's hockey program, but he has also helped expand and grow women's hockey as a sport. Through The Bob Johnson Ice Hockey School, Johnson provides opportunities for women, men, girls and boys of all ages to experience the sport. Johnson and his family have run their schools since its foundation in 1964, making it America's longest owned and operated ice hockey school. Coaching with her father in Vail and Aspen, Colo., are some of Mikayla Johnson's favorite memories: "It's not just my family that goes out there; it's my dad's whole side of the family. So there will be his brothers and sisters, my cousins, and it just keeps getting bigger and bigger. It's a fun thing because everyone's on the ice together."
The longevity and success of these camps is a testament to the Johnson family passion for hockey. Johnson believes that an underlying passion for what you do is what fosters success.
"Whatever job you have, if you're a leader of a group of people and you can create a culture where they enjoy coming and they look forward to being a part of my world as a coach for whatever [time] we have … then you got 'em. And I think I probably learned that from my dad most."
From playing under his father in the 1970s to now coaching his daughter Mikayla Johnson, Packer says in a way, Johnson's decision to accept the head-coaching job at UW-Madison is keeping the Johnson family legacy alive. She says there is something special about playing for someone who has left an enormous impact on UW-Madison, the Madison community and college hockey.
"When you think about the University of Wisconsin, you think, 'That's Mark Johnson's team,'" Packer says. "It's cool that you drive around campus or just around Wisconsin and there's Johnson Street everywhere …  Not everyone can say they got to play for a guy like that."
Johnson is a legend, glorified for his many accomplishments. But if Johnson could choose how he'd like to be remembered, it wouldn't be for his accolades.
"If my time's up," Johnson says jokingly before switching to a more serious tone, "[I'd want people to remember that] I was a good husband, I was a good father and hopefully I'll be a good grandfather. And probably the biggest thing, is depending wherever I was working or playing, as I left those areas, it was a better place because I was there. And I think if people can talk about that, I must have done some pretty good things."