On the sparkling waters of Upper Turtle Lake, residents are taking out their fishing boats for the season. The leaves are just beginning to turn and it appears to be another beautiful fall in the small town of Turtle Lake. But something big is happening. People are talking about the new place in town. A place that spits fire out the back and emits a rancid odor that wafts over the RV park next door.
Just past the antiques shop and across from the local dairy, the newest addition to Turtle Lake sits on a bed of fresh asphalt. However, this fire-breathing, foul-smelling curiosity may be the solution to one of the most pressing issues facing the Wisconsin dairy industry today: waste management.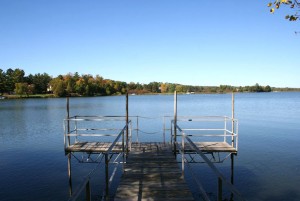 "We're turning waste management on its head," Eric Ludy says, a smile slowly spreading across his face. Ludy traveled more than 4,000 miles home from Peru to assist his father with this innovative waste management project.
"I never really wanted to come back to my hometown, but this opportunity seemed too good to pass up," Ludy says. While Ludy was in Peru, his father, Tom Ludy, partnered with two dairy waste haulers, Tim and Larry Peaster, to found an anaerobic digester facility called GreenWhey Energy Inc.
GreenWhey Energy takes in 300,000 gallons of wastewater per day from several regional cheese factories and a soy processor. The wastewater is filtered through an anaerobic digestion process in which bacteria break down waste without oxygen. This process produces a biogas, which is then collected and converted into electricity. GreenWhey Energy is currently the world's largest operating digester facility of its kind. Running at full capacity, the facility can produce 3.2 megawatts of electricity.
"To put that in perspective, that's about enough to power 3,000 homes, or three Turtle Lakes," Eric Ludy says.
What makes GreenWhey Energy unique is that it was not founded expressly to produce electricity. It was intended as a solution for the waste disposal issues threatening many Wisconsin cheese factories.
THE SEARCH FOR A SOLUTION
"I've been a cheesemaker for a long, long, long time. Forty-one years to be exact," Tom Ludy, president of GreenWhey Energy, says as he reclines in an office chair at the new facility, wearing a Milwaukee Brewers T-shirt. Tom Ludy is fiercely loyal to his state – to his Wisconsin teams, but also to his fellow Wisconsinites.
Like most Wisconsinites, he grew up around cheese. But for Tom Ludy, cheese was a family affair. His father owned a cheese factory in Almena, and later Tom started his own in Turtle Lake called Lake Country Dairy.
A few years ago, an issue emerged in the cheese industry. Cheese factories began to face huge fines from the Department of Natural Resources for their waste disposal.
"When I first started in the dairy business, we dumped our waste out the back door, down a crick and into the river," Tom Ludy says. "That was 40 years ago. Since then, now we've gotten to the point where we can't even haul it on the ground. You're not supposed to haul on frozen ground, you're not supposed to haul during the rains and you're not supposed to haul on ground that's planted. So that really leaves you with about one month in the year when you can do anything."
This is no small problem. Cheese factories have to dispose of wastewater from rinsing down factory equipment every single day. This processed wastewater is full of organic material like lactose and whey permeate. For many years, cheese factories simply hauled and spread this wastewater on farmland for its limited use as a fertilizer.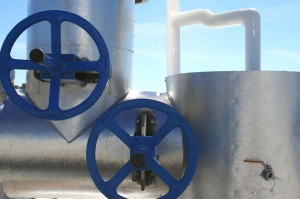 However, the organic material from milk contains a lot of phosphorus and nitrates. If the material leaks into lakes and rivers, it can starve waterways of oxygen, kill fish and cause algae growth. Unfortunately, due to Wisconsin's highly variable climate, the ground is often too wet or frozen to absorb the wastewater. Therefore, a good amount of phosphorus runs off into Wisconsin's lakes, turning them a bright, pea green.
Facing pressure from the Department of Natural Resources and local lake associations, Tom Ludy searched for a solution. In other areas of the state, dairy plants spend money to treat their waste, isolating proteins and converting waste into whey products. The sale of these whey products helps many cheese producers actually make a profit on cheese production, according to dairy processing technologist, Karen Smith. However, the necessary equipment is likely too expensive for the amount of whey byproduct produced by the smaller scale factories in northwestern Wisconsin.
Then, Tom Ludy came across a man named Raj Rajan, who was giving a presentation on alternative waste solutions at a regional conference in Wisconsin. Rajan worked for Ecovation, now a subset of Ecolab. His company specialized in producing energy from food and beverage waste.
Tom Ludy, who at the time was still managing Lake Country Dairy, got in touch with Rajan to discuss whey disposal alternatives and finally decided on a potentially feasible solution. He brought the stakeholders together to propose the idea and tour the existing facilities in New York. "They decided at that point that Lake Country Dairy would be, by itself, not big enough for this big idea," Rajan says.
Tom Ludy first partnered up with the waste hauling company Northern Liquid Waste Management. The company was run by two longtime friends, father and son Larry and Tim Peaster, who initially got their start with Tom Ludy's father in Almena.
"There's a mutual trust between the Peasters and my father and my grandfather," Eric Ludy says. Because of this relationship, Tom Ludy asked the Peasters to join him to create the large merchant facility in Turtle Lake. A merchant facility brings in wastewater from several dairy plants throughout northwest Wisconsin. It was then, in 2007, the idea behind GreenWhey Energy was born.
"It's fascinating to have customers like Tom Ludy who are very passionate about not just doing what's right for their business, but what's right for their environment and their local community," Rajan says.
WHERE THERE'S A WILL, THERE'S A WHEY
"It was a long four years of getting the plans together, coordinating with EcoLab to draw up the process and finding financing was a huge deal," Eric Ludy says. "Getting all the permits; everything that goes into starting a $28 million anaerobic digester in Turtle Lake. There was a lot to it and a lot of people helped."
The state program Focus on Energy gave the company an initial grant to perform a feasibility study. Several organizations helped get the company started with grants and secured loans. Caterpillar Financial financed 70 percent of the project.
"I will tell you, we've had nothing but good support from the state of Wisconsin," Tom Ludy says.
The Wisconsin State Energy Office put $3.4 million into the project as part of its Clean Energy Manufacturing Revolving Loan Program, financed by the Recovery Act. It currently finances only 23 projects in Wisconsin. GreenWhey was an attractive project partly because the company brought so much of their own financing to the table, according to David Jenkins, the director of commercialization and market development at the State Energy Office.
"In Wisconsin, this is a manufacturing state and it's an agricultural state. We make and grow everything here," Jenkins says. "So if we can help businesses reduce their costs by harnessing these waste streams to make energy and other things, that's sort of our niche."
Work on the Turtle Lake plant began last year and finished in June. In September, the $28 million facility officially opened its doors, ready to take up to 4 million gallons of wastewater in the digester reactors. In late September, GreenWhey was still commissioning the plant and only half of the facility was up and running. Barring any issues, they plan to ramp up on a daily basis, on track to full commission roughly 60 days after their grand opening, Tom Ludy, says.
"Just because it's renewable doesn't mean it's free," Tom Ludy says. "Just because it's new doesn't mean everything is perfect."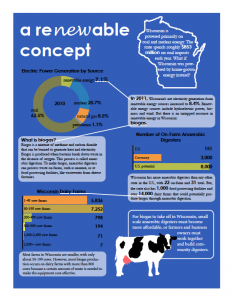 SOMETHING SMELLS
They haven't achieved perfection yet. "We're trying to get our odor issues under control, but we've emitted some kind of foul odors and there have been some complaints," Eric Ludy says. One whiff downwind of the plant confirms it. GreenWhey really does pack a pungent odor.
"When I leave for work for the day, I dream about the smell," Eric Ludy says. "It makes things unpleasant."
Luckily, the robust scent is only temporary. "The smell that you are seeing is the smell of hydrogen sulfide," Rajan says. "That smell will disappear over time once the plant is fully commissioned and operating as intended."
However, residents are curious about more than just the new aromas GreenWhey brought to town.
"There's this big torch with a flame shooting out of it and when we fired that up people kind of freaked out," Eric Ludy says. "They're like, 'Why, your building is on fire! What's happening over there?'" The fire is perfectly normal though. Excess biogas is burned and flared out the back of the facility for safety, creating the flame.
People have concerns, but overall, both Ludys agree the village has been very supportive of the project. Several hundred people went to their open house in September for a tour and explanation of the facility.
In general, the way the plant works is fairly simple. Wastewater enters the plant by the truckload and by an underground pipeline from the dairy across the street. The wastewater from each plant is held in separate tanks until the pH level, the amount of organic content and other chemical properties are determined. The wastewaters are then combined with each other to achieve a precise chemical balance for the anaerobic bacteria in the two digesters.
"We have our own ecosystem behind that wall," Eric Ludy said, referring to a 2 million gallon reactor in the plant. The bacteria in the reactors digest the food in the water. The digestion emits biogas, a combination of methane and carbon dioxide, into the reactor. Most of the gas is collected and burned in one of their two generators. This produces electricity that is sent straight to a grid.
Any gas that remains in the water is removed with the solids. For now, the solids are recycled back into the reactor in order to build a layer of sludge that will aid digestion. In a year, the layer will be thick enough for optimal digestion. After that, excess solids will be collected, dried and sold as a fertilizer. At the end, the plant emits water that is clean enough to reenter waterways.
"I'd swim in it, but I wouldn't drink it," Eric Ludy says. "Just like a lake water." That's the bottom line at GreenWhey: to reduce waste by purifying cheese wastewater.
A FRESH FUTURE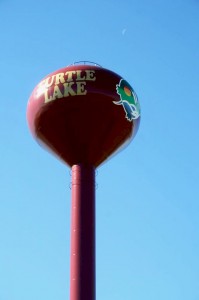 "As far as an energy provider, we're tiny. But as far as a digester goes, we're huge," Eric Ludy says. A typical nuclear plant can produce 100 megawatts of electricity, over 31 times the amount of GreenWhey Energy. However, the plant produces more energy than the grid in Turtle Lake can support right now. Tom Ludy is looking for other ways to channel GreenWhey's excess energy. The plant generates enough heat to warm the dairy across the road all winter. He hopes to use the biosolids in greenhouses and look into the production of compressed natural gas. The fleet of trucks that haul in the wastewater could be fueled solely on this gas.
"I think those kind of projects, like GreenWhey, you're going to be reading about more and more of those and maybe less and less about solar and wind," Jenkins says.
While the technology isn't new, the concept is unique. GreenWhey is the first freestanding facility to take in waste from several different providers in the U.S. This could help the Wisconsin cheese industry by reducing phosphorus waste and keeping disposal costs down, while providing an affordable source of renewable energy.
"We've turned a waste from a liability into a commodity," Eric Ludy says.