Three years ago, it was a normal day for Green Bay native Glen Christensen as he walked to the mailbox outside his home near Dallas. Still reeling from the recession, his thoughts were crowded with worry over whether or not his printing company could withstand the economic downturn. In his mailbox, instead of finding bills or notices from the bank, he found a letter from over 1,000 miles away. He had been waiting for the letter since the 1960s when he spent his childhood Sundays sitting on the curb near Lambeau Field, listening to the stadium roar.
"I opened that mailbox and right on top was a bright white envelope with the Green Bay Packers logo and I seriously started to shake," he says, recalling his joy at receiving the letter. "There's the thing for my season tickets, we've finally moved up." Not the least bit embarrassed, Christensen adds, "I had tears in my eyes."
For Christensen, the Green Bay Packers have been a part of his family's history nearly since the team's birth. His mother, Germaine, was a majorette for the Packers Lumberjack band in 1938. She was hand-picked by Curly Lambeau himself when he saw her perform at Green Bay East High School. She passed her adoration for the Packers along to her son, as he grew up watching Bart Starr throw touchdowns on television. Despite his mother's history with the team, Christensen didn't see much of the stadium's interior.
"I never really got to go to any games when I was a kid because, even then, Packers tickets were just ridiculous to get a hold of," he says.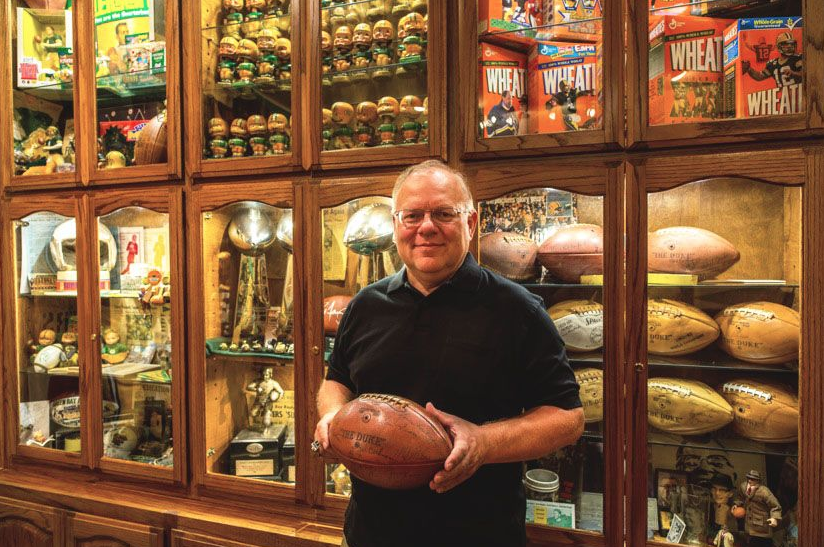 Becoming a season ticket holder has only gotten more difficult over the last 50 years. In fact, the Packers ticket office says there are more than 100,000 people waiting their turn to purchase a set of the coveted season tickets.
Some may never live to get off the list. But the Packers send annual postcard updates to these loyal fans, notifying them of their position on the list. For those waiting, their spots are more than numbers. Being a part of the waiting list is an opportunity to be a part of one of the most beloved sports teams in the country. It is an opportunity to belong to an inclusive community of passionate fans.
Karl Kallio was put on the waiting list as a Christmas gift in 2004 when he was 12 years old. Currently, he is 89,786 spots away from his own set of season tickets.
"I'm still excited," he says with determination, unfazed by the daunting number of fans who stand in his way. "It doesn't mean anything, but it's just cool. It's more of a Green Bay pride thing, to do as much as you can for your football team."
That Green Bay pride is nearly as old as professional football itself. The Green Bay Packers played their first season in 1919, making them one of the oldest professional football teams in the country. The team's nearly 100-year history is characterized as much by financial struggles and faltering leadership as it is by success against all odds. The Packers' early dependence on the citizens of the Green Bay area to keep the team afloat allowed for the formation of one of the most unique ownership models in professional sports.
"It's a community that has literally saved the team from bankruptcy," says Aaron Popkey, director of public affairs for the Packers. "We've had five stock offerings … each time, the fans have come forward and helped the team financially to be put in a better position."
This exceptional ownership model allows both parties to benefit. Packers stockholders own stock that will never increase in value, never pay dividends and can never be sold. Yet this publicly owned, absurdly small-market team has allowed its fans to feel a sense of belonging and family that goes unrivaled anywhere else in the NFL. Other cities with NFL teams are large and culturally diverse places with professional baseball, basketball and hockey teams. Green Bay has the Packers.
The miracle of the team's corporate structure ensures that the Packers will never be moved to a different city; they will belong to the people of Wisconsin and their stockholders forever. Because of this, Green Bay provides a home for the Packers better than any other city ever could.
Affectionately and appropriately dubbed "Titletown," Green Bay has seen its Packers win 13 championships over the last 95 years. Perhaps the most notable years of success, the 1960s, were the glory years of head coach Vince Lombardi, who came to Green Bay after the Packers had suffered through more than a decade of losing seasons. Lombardi led the team to five championships between 1961 and 1967.
Back then, Lambeau Field could seat only a fraction of the fans it can today, but among Lombardi's long list of accomplishments is the beginning of the season ticket waiting list. The Lombardi era helped cement the legend of the Green Bay Packers in the minds of football fans across the country and laid a foundation for the rampant devotion to the team that has grown stronger since.
Although the 1970s and 1980s saw a marked decline in the Packer's field performance from the glory years, Packers fans, ever supportive, still clambered for tickets; every game since 1960 has been played in front of a sold-out crowd.
During the 1989 season, the Packers posted a record of 10-6, their best since 1972. According to Popkey, this was when season ticket waiting list numbers began to skyrocket.
"There were about 7,000 or 8,000 names through the '89 season and then it really took off in '89," says Popkey. "That was really the best year in many, many years."
It was in this year that Brianna Niemi was added to the list in November by her parents, following her birth in June. She joined the list at number 9,347, only a few short years before the legendary day a young backup quarterback named Brett Favre would substitute for an injured Don Majkowski and eventually lead the Packers to practically uninterrupted success from 1992 to 2008. Since 1992, the Green Bay Packers have had 17 winning seasons and have clinched 15 playoff berths. And in that time, the season ticket waiting list has grown exponentially, reflecting the Packers' spike in popularity and victory
This year, with Lambeau Field's most recent renovation, about 7,000 new seats were added to the south end zone. This allowed a significant amount of people to make it off the waiting list for the first time since the major stadium renovation in 2003, when the seating capacity was raised from 60,890 to 72,928.
With the newest addition, the stadium will seat 80,750 people. Because of these renovations and the lucky timing of when Niemi was added to the list, she now finds herself all of eight spots away from the top of the list.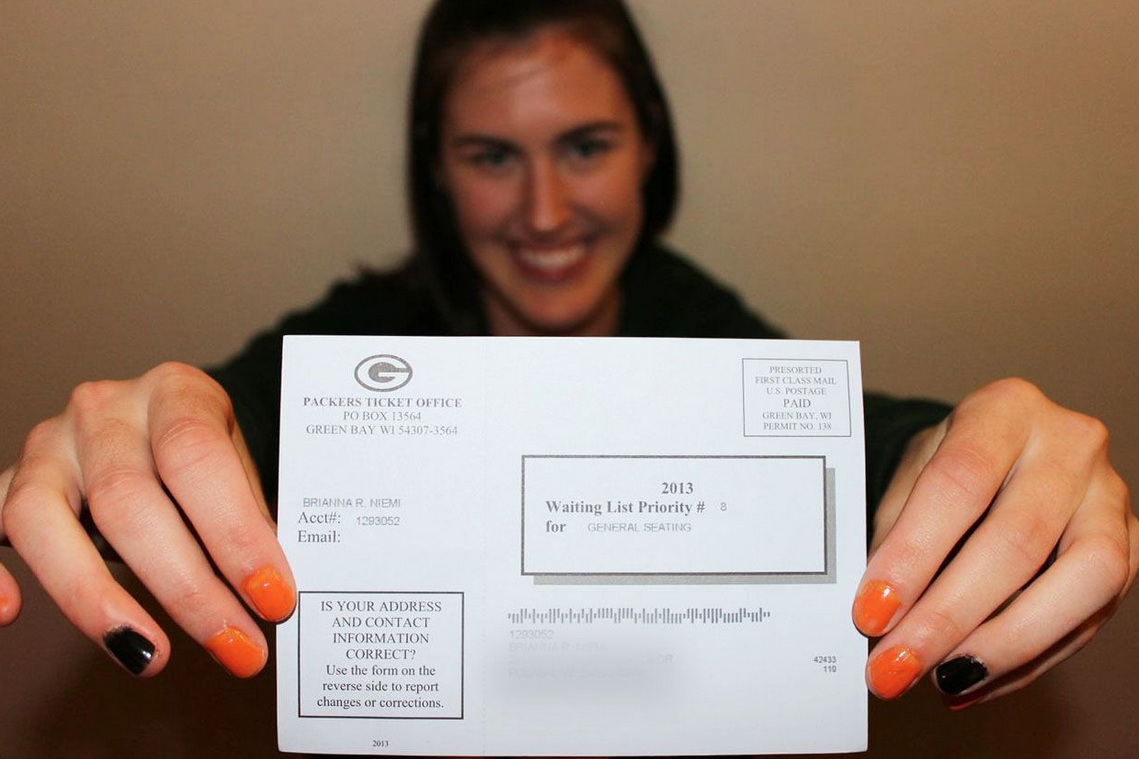 "It kind of scares me. I thought I'd be more financially ready when my time came," she says, unsure of how to pay for both the user fee to secure her tickets and the price of the tickets themselves. "I'm a grad student right now so I already have undergrad loans and grad loans. I don't want to pass it up but I have to find options soon enough so I don't have to lose them."
She is in a similar position to Christensen, who had a bit of a reality check when he realized the investment he was making. "All of a sudden it set into me that now isn't the best time to add on those expenses," he says. "But there's no value to these that you can set. They're priceless."
Popkey says that as far as the Packers know, they have the longest active season ticket waiting list, along with the slowest turnover. Since the waiting list is so long and many fans won't receive tickets during their lifetime, waiting list positions are transferrable between immediate family members, just like the actual tickets themselves. This is good news for Kallio, who plans to keep his waiting list position alive for a family of his own someday.
"Being able to pass that on would be really cool," he explains. "The best present I could give my kids is a chance to go to Packers games."
Others never give up hope that their name will make it off the list during their lifetime.
"In an average year, we have about 100 names that come off the list. So if you were to do the math, you would discover that it's not even really worth an estimate," Popkey says. "Being on the waiting list is more of a source of pride and connection amongst Packers
Doing the math might lead new members of the waiting list to become overwhelmed, thinking about the 1,000 years they'll have to wait before their number comes up to receive season tickets. However, not everyone on the list can accept the tickets when they are offered. In fact, according to the Packers organization, only about 77 percent of those on the waiting list who are offered season tickets actually purchase the tickets. The other 23 percent, many of whom cannot afford the initial investment or have moved away, give up their spot on the waiting list and there's no turning back.
Niemi has no intention of allowing that to happen to her. "I'll see if I have options of getting loans or maybe finding someone who I trust to invest in them until I can afford them," she says. "Because I don't want to lose them."
The significance of Packers season tickets to many fans seems to more than justify the magnitude of the waiting list. This sentiment is echoed by season ticket holders who call not only Green Bay, but Lambeau Field itself, their home.
"No matter how long you've been gone, it's always home," says Christensen. "For me, the tickets are far beyond going to see the Packers. It's going back home and reliving my childhood."
Popkey feels similarly, citing how the community takes responsibility for the continuing legacy of the team. "We feel we have a treasure here and we need to nurture it along," he says.
Those who are lucky enough to have season tickets understand how special it is to have them. Christensen describes the event he attended at Lambeau three years ago for new season ticket holders to see their seats.
"The coolest thing was … they let us go sit in our actual seat. And it was kind of rainy out but we went up there and we sat in those seats in the rain and it was the coolest feeling ever, to know that those were my seats and I'm finally a season ticket holder of the Packers," he says. "We absorbed not only the rain but the experience … it'll never get old. I grin every time I get down to row nine and I know that those seats are mine."
Check out the Green Bay Packer's timeline and 10,000 Pieces of Packer Pride for more information.