It's about 34 degrees on an unseasonably cold October night, but the icy temperatures haven't deterred the crowd at Wisconsin's La Crosse Speedway. Fans are bundled in NASCAR-emblazoned coats, camouflage fleece and blaze-orange winter hats. Clutching their green-and-yellow Packers-themed beer, Oktoberfest Race Weekend is nothing short of tradition.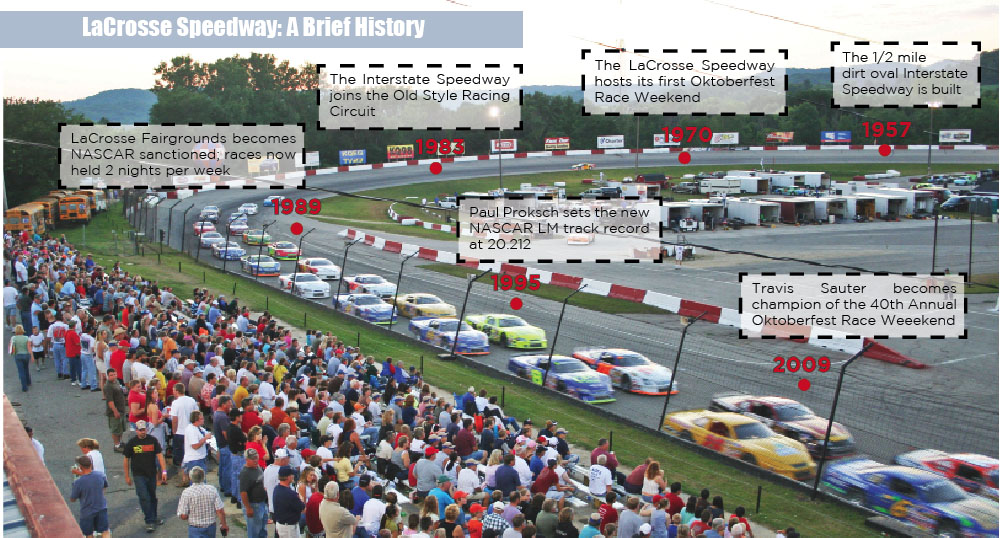 There is no scarcity of passion at Oktoberfest. Fans' eyes diligently follow the cars around the track, not daring to turn away lest they miss a crash. Unlike the spectators with years of race weekends under their belt, this is my first racing experience not involving Ricky Bobby. I am, as expected, a sore thumb. A surprising number of women are in attendance at Friday night's feature races, but as far as I can see, I am the only 21-year-old from New York wearing Ugg boots for warmth. I was raised on the Yankees and Patrick Ewing, and fans here grew up cheering for Jeff Gordon and Dale Earnhardt.
I arrive with my three roommates, who were reluctantly dragged along with promises of an adventure, and we claim a patch of grass between campers for the weekend. Apparently, we were the only people on the campsite who don't have an RV to our name (or, at least, the only ones not smart enough to rent one as opposed to spending the night outside with below-freezing temperatures). I leave them to pitch the tent, and venture toward the racetrack.
During racing season from April to September, the La Crosse Speedway holds regular shows on Saturday nights, attracting area race fans. Oktoberfest Race Weekend, however, is the track's biggest event of the year. Four days of events, 800 laps of feature racing and over 500 racecars bring more than 11,000 people from the region to West Salem.
"We get people from Midwestern states, Canada, Colorado; it's a Midwest draw. It's a much larger event and carries a great deal of tradition with it," says Chuck Deery, general manager of the La Crosse Speedway.
About eight events nationwide are similar to Oktoberfest, each serving a different region.
"They all have the same type of flavor, which is a large number of race fans and competitors meeting at one track in their region to have fun and see who's going to be the champion," Deery says.
Because races are regularly scheduled weekly events at the track, the uniqueness of Oktoberfest Race Weekend is enhanced through camping, post-race parties and a variety of different drivers competing for the only time that year.
"There are bragging rights involved," Deery says.
Matt Garbers, a former racetrack employee, has been going to the races as long as he can remember.
"I was probably watching NASCAR before I even knew what racing was. I was raised on it," Garbers says.
With his dad, mom and sister having all worked at the track, taking a job at the La Crosse Speedway has become a family rite of passage. For the first time in 10 years of Oktoberfests, Garbers was able to enjoy the Race Weekend as a true spectator.
"I like the event mostly for the sport, but I also like the atmosphere a lot. It's fun to be around thousands of other people who share the same love of racing."