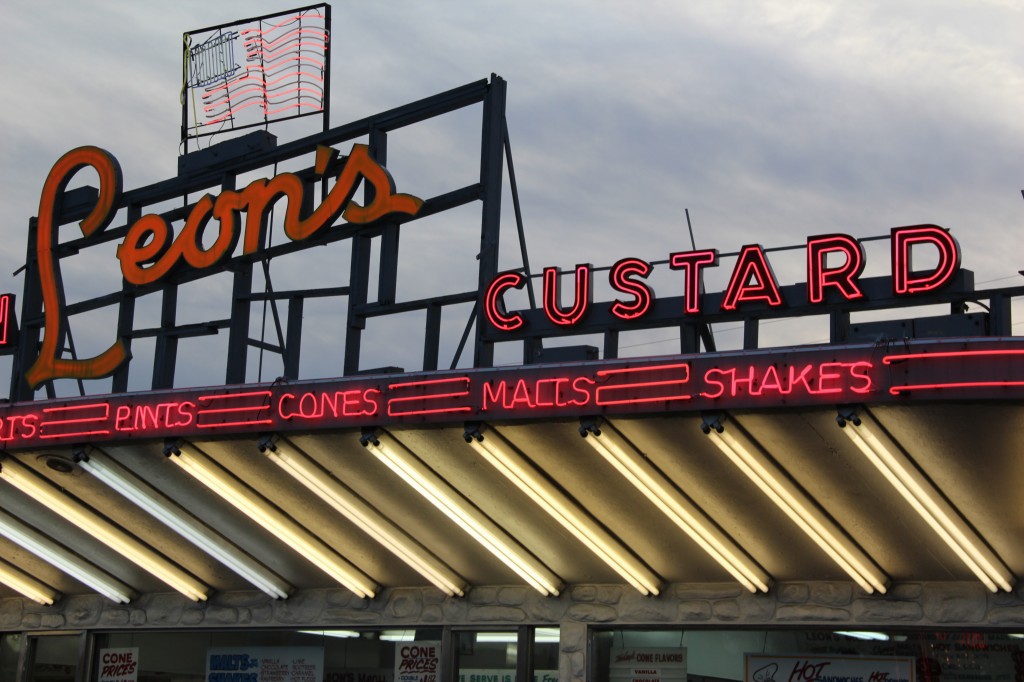 By: Corinne Burgermeister
If you were driving on Milwaukee's south side on any warm summer night, you might come across Leon's Frozen Custard stand on a busy South 27th Street. You might be driving in from Chicago, notice the bright neon lights reminiscent of the Happy Days era, and decide to pull over. Once out of your car, you'd walk up to the stand, peer inside the large glass windows and watch the "iron lung" custard machines, slowly pouring out ribbons of thick chocolate and vanilla custard as a young baseball team stares, eagerly awaiting their postgame treat.
The team, along with families and couples young and old, make up the endless line of customers.  An employee in a white-collared shirt, paper hat and black bowtie hands you a cone of creamy vanilla custard as you tap your foot to the rock 'n' roll soundtrack playing from the outdoor speakers. As you watch countless cars pull in and out of the small parking lot, you'll debate eating your food on the go. But in the end, you'll decide to slowly eat your cone in the lot, taking in as much as you can from this custard oasis surrounded by dreary city buildings.
Custard Capital
To many, Milwaukee is known as Brew City, home to Miller Brewing Co. and lined with bars and taverns on nearly every block. However, what many do not know is that Milwaukee is the unofficial frozen custard capital of the world, home to the most custard stands in the United States. But it wasn't always this way. Leon's, which first opened in 1942, served as the catalyst in propelling custard culture throughout Milwaukee and its surrounding areas.=
According to current owner Ron Schneider, when his father decided to open Leon's, he felt customers could go many places for food, but not for custard. He made it his mission to serve the best frozen custard, which helped contribute to its spread across the Milwaukee area.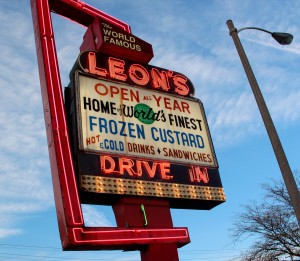 Although custard took over the Midwest, it was created in 1919 on Coney Island. Custard didn't reach the Midwest until over 10 years later when it made its debut at the 1933 Chicago World's Fair. Milwaukee then welcomed custard with open arms in the 1930s, and it has been one of the city's most popular products since.
Some may think little difference exists between custard and ice cream. But those who have tasted custard say mere ice cream pales in comparison. Custard, unlike ice cream, contains 10 to 13 percent milkfat and is made with egg yolks, cream and sugar. The texture is smoother and silkier with a creamier and richer taste because of less air in the product. But custard must be cared for and made fresh throughout the day. After just two hours, custard begins to lose its flavor and texture, becoming more like ice cream, "and you can buy ice cream anywhere," Schneider says.
Schneider attributes custard's success in the Midwest to the high standards kept by shop owners. With the early success of Leon's, other business-hopefuls came to Leon for advice, including Kopp's, another popular Milwaukee destination. He helped potential business owners find ideal shop locations, proper equipment and connected them with the best custard recipes, forming a custard alliance that continues today.
Schneider says his father thought, "if the product in the whole area got a good reputation, it would benefit everyone." And it did.
Helping Out
Although Leon's helped push frozen custard forward, it was not the first custard stand to open in Milwaukee. In fact, it's likely that Leon's would not exist without the influence of Gilles Frozen Custard, as Leon worked under owner Paul Gilles for nearly a year before deciding to start his own business.
Outside Gilles, just six miles west of Leon's, a large sign proudly boasts, "Oldest Custard Stand in Milwaukee." The stand opened in 1938, a few years prior to Leon's, along the then-gravel Bluemound Road. According to current owner Tom Linscott, "it was considered out in the sticks."
Today, Gilles is located in a residential area. But Miller Park, State Fair Park, the Milwaukee County Zoo and several high schools have sprung up nearby. Though Milwaukee has grown and changed, the custard stand has remained the same, much to the customers' delights.
"We take the history of this place very seriously, people's memories and all of that," Linscott says.
At 4 p.m. on a brisk October Tuesday, the scene is similar to what it has been in the past. The Pius XI High School Cross Country team runs by Gilles' full parking lot. Inside the simple brick building, teenagers huddle around a table gossiping about the upcoming homecoming dance, while mothers stop in after work to pick up dinner or custard for their families. Neighborhood children ride up on their bikes, proudly buying custard with their own money.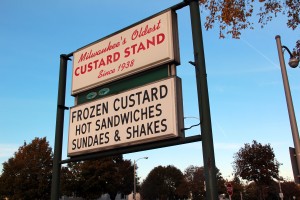 If you were to look closely, you would notice where the once walk-up window's additions are: a bigger stand complete with added room for working and ordering. But aside from equipment upgrades and menu additions, Gilles aims to remain the place customers know and love.
Both Gilles and Leon's have returning customers that boast eating at their favorite custard spots for as long as they can remember, walking up with their parents as children and now taking their children too. For them and others, eating at the iconic stands evokes a sense of nostalgia, going back in time, half-expecting a waitress to come out any second on a pair of roller skates.
Aside from a sense of nostalgia, the stands evoke a sense of community. Regular customers show up like clockwork, according to Linscott, allowing employees to start making orders before customers even get out of their cars. Although a large amount of business comes from those in the neighborhood, Linscott says the more humbling experiences occur when those who have left the Milwaukee area return for their favorite treats.
Many families, in fact, feel so connected to the custard stands that Leon's or Gilles is their first stop upon leaving the airport. Some even pick up their favorite dessert before they've had a chance to see their relatives.
One of the funniest stories Linscott recalls is when some family members tricked the others into taking them to Gilles again.
"A lot of people say, 'this is our first stop, we're terrible, we just left the airport and didn't call our family yet. Then, when we go to the house, we're gonna tell them we want to go to Gilles, and it's gonna be our second stop already."
"That is terrible," Linscott adds with a smile.