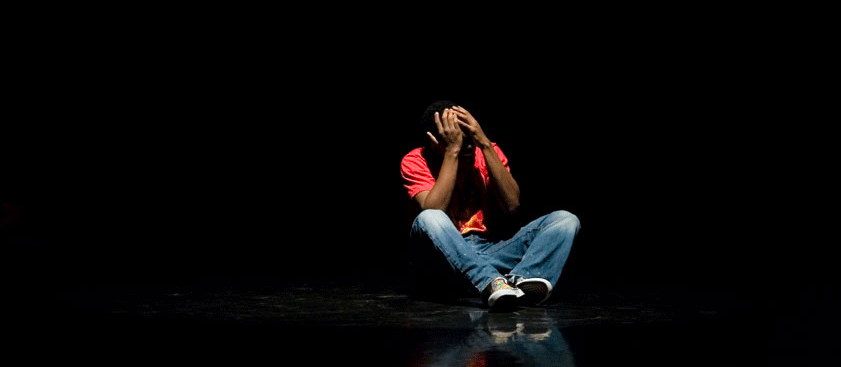 Matthew Wisniewski/Curb
Through rhythm and motion, Spoken Word allows young men and women to explore issues of racism, addiction and death.
The lights are dimmed. The crowd waits with bated breath. The show began an hour ago, but time is standing still. The crowd keeps clapping and shouting after the next performer's name is called. A woman approaches the stage. Her dark curly hair has been wrapped behind her head in a ponytail. Her legs seem to be struggling, pushing through some invisible mass of water as she gets closer to the microphone. Her hands reach over to the black wireless microphone and gently pull it toward her chest. Her eyes face the crowd and a strong, provocative voice fills the room.
Hey baby I've got a riddle for you
Who am I?
They say temptation flows like me
And I fuel the tempted
With thoughts of fleeing reality
For a little bit
When they feel like their life ain't shit
And they are ready to quit
Depression descends upon their bodies
And I'm the perfect remedy you best
Believe it…
I'm smooth
I'll make you feel sexy and sweet
She continued to unveil the secrets of her riddle.

But leave a bitter taste in your mouth
And aches in your head come morning
I'll cure you when you mourning
Or at least I'll tell you I will
Why choke back tears
When there is 40 ounces of me
That you could kill?
You can use me for cooking
You can bake me in bread
Or you can chug me at a party
And I'll make you think with the wrong head.
Her hands and arms dance from side to side. Her hips start swinging left, right, left and right again. The crowd sits in shock, unable to keep their eyes from her alluring appearance. She continues her enthralling performance with the members of the audience anxious to hear the next line until she delivers the answer to her riddle.
I'm that deal baby…
You know who I is baby…
So I guess this ain't much of a riddle now is it baby…
Who am I?
I'm Always Loosing Control Over How
One Lives…
That's right…
baby I'm Alcohol.
So…
Can I buy you a drink?